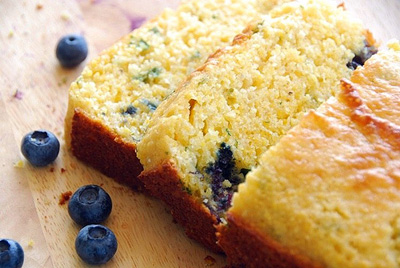 The farmers' markets here in Southern California are amazing -- you can find dates, figs, guavas, kumquats, passion fruit, persimmons, and pluots, but rarely do you see humble blueberries.
I grew up picking and eating fresh blueberries every summer back in New England. Why, I wondered, are they so hard to find in California?
The problem is dirt. Apparently blueberries like to grow in highly acidic soil and Southern California has alkaline soil. This presents a challenge to growing blueberries in Southern California (which explains why most the of the blueberries I buy at the market are from Washington).
New England's acidic soil is perfect for blueberry bushes. I don't know what was better, marching along rows of blueberry bushes, basket in hand, with blue lips and fingertips or standing in the kitchen watching my mom use my very own fresh picked berries to make sweet blueberry buns with lemon icing, old-fashioned double crust blueberry pie, or a loaf of hot blueberry-corn bread (that went straight from the oven to my mouth).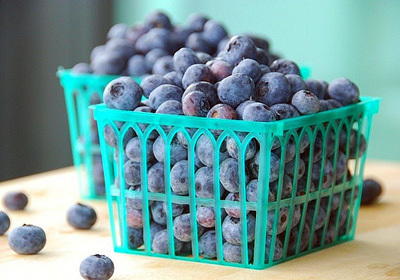 So when I found these pristine Washington State blueberries, I bought 3 pints. After eating enough berries to make me worried I might overdose, I decided to bake something with the remaining berries. So here is a variation of Mom's old-fashioned corn bread. Infused with tart lemon and savory basil, this moist cornbread makes a lovely addition to a summertime brunch or picnic.
After baking an Olive Oil Cake with Rosemary and Lemon last year, I have enjoyed experimenting with various fresh herbs in baked goods. Whereas rosemary's bold flavor remains unaltered by the oven's heat, fresh basil loses much of its intensity. So, here are my recommendations: use an ample amount of fresh basil, such as 1/3-1/2 cup. It won't be overpowering. Or use dried basil which maintains its flavor better. You could use 1-2 tablespoons of dried basil with some fresh basil for a prettier look. Also try serving the bread hot with butter -- you can even make your own basil butter, which has a mild but delicious flavor.
Lemony Blueberry Corn Bread with Basil
Corn Bread:
1 cup all-purpose flour
1 cup medium coarse stone-ground cornmeal
1/2 cup granulated sugar
1 tablespoon baking powder
1/4 teaspoon baking soda
3/4 teaspoon salt
2 tablespoons canola oil
2 tablespoon butter, melted and cooled
1 cup buttermilk
2 large eggs, lightly beaten
1 teaspoon lemon extract
1/4 teaspoon lemon zest
2/3 cup fresh blueberries (dusted with flour)
1/3 cup fresh basil, thinly sliced (or 1-2 tablespoons of dried basil for a more intense flavor)
Basil Butter:
1/4 cup butter, slightly softened
1 tablespoon fresh finely chopped basil
Place a rack in center of oven and preheat to 375 degrees F. Butter or coat with cooking spray a a 5 by 9-inch loaf pan and set aside.
For the basil butter, stir chopped basil into softened butter and set aside.
Remove any blueberries stems. Wash the berries, pat dry, and lightly sprinkle with 1 tablespoon flour to help prevent them from sinking or bleeding color.
In a large bowl, combine flour, cornmeal, sugar, baking powder, baking soda, and salt.
In a separate bowl, whisk together oil, butter, buttermilk, eggs, lemon extract, and lemon zest. Add to the flour mixture and stir quickly until well combined. Using a rubber spatula, gently fold in the the fresh blueberries and basil.
Bake for 35-45 minutes, or until the top is golden and a cake tester inserted into the center of the bread comes out clean. If it needs to bake longer but the top is already golden, then place a a piece of tin foil over the top of the bread to prevent further browning. Transfer the pan to a rack to cool for 5 minutes before removing and placing on a wire rack to cool. Serve hot with basil butter.
Susan Russo is a free lance food writer in San Diego, California. She publishes stories, recipes, and photos on her cooking blog, <Food Blogga and is a regular contributor to NPR's <Kitchen Window. She is also the author of Recipes Every Man Should Know
and The Encyclopedia of Sandwiches
.