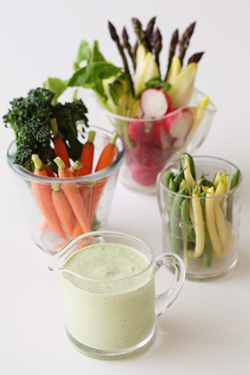 In case you're wondering who Mateo is, that's me. That's my name in Spanish, a title only used at home by my grandparents and when I did something terribly wrong as a child. I'm sure you can hear it now: "MATEOOOOOOOOOO!" For some reason it has more zing that just "oh Matt, quit falling out of 2 story windows and take off your sister's dresses while you're at it!"
With that out of the way I can proceed to this snappy little dressing and dip I have been calling Diosa Verde. Diosa Verde is nothing more than a literal translation of "Green Goddess", that tangy creamy dip of yesterday that has been back in vogue for the past few years. But this isn't just a literally translation of the recipe, no sirreee, but Green Goddess with a Mexican twist.
I wanted something a bit different for crudité. I had this idea for latinizing the dip when I kept dipping carrots and celery into Crema Mexicana I kept tucked away in the fridge. With its super thick consistency, Crema Mexicana is perfect to have on hand for topping just about anything that would use sour cream or even creme fraiche: on baked potatoes, in sauces, tacos, you catch my drift. My mind began to think of Green Goddess dressing made with it but I didn't stop there. I added a pickled jalapeño (the vinegar would give it more tang), some chopped cilantro and voila! My dressing is still cool and creamy with those herby notes Green Goddess is known for but with a slight twist. Now I can't wait to make another batch and use it in other dishes.
Matt's Green Goddess Dressing
3/4 cup mayonnaise
3/4 cup crema mexicana
1 tablespoon tarragon vinegar
1 tablespoon lime juice
zest of 1/2 lime
2 green onions, roughly chopped, both green and white part of the onion
1/2 cup chopped cilantro
1 pickled jalapeño pepper, seeded
salt and pepper to taste
Put all the ingredients in blender and puree on high for about 1 minute, pour in bowl and refrigerate for 2 hours or up to 3 days. Best served cold or room temperature.
For the veggies: use whatcha like! I serve raw green beans, little carrots, celery, radishes, endive leaves, cauliflower, cucumbers, asparagus, yellow or red bellpeppers, etc.
-- Also published on MattBites.com