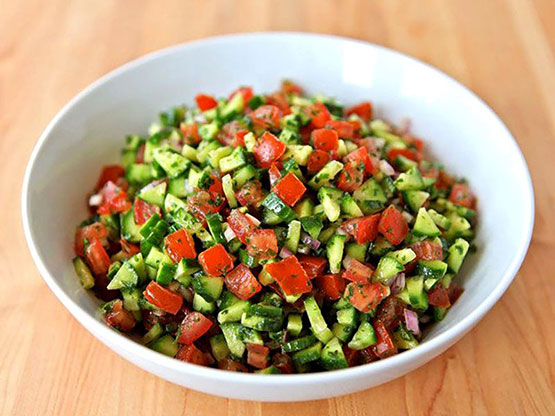 This simple, fresh, colorful chopped salad can be found everywhere in Israel, from roadside falafel stands to high end restaurants, and is served for breakfast, lunch and dinner. The variations are endless but the base always includes finely chopped tomatoes and cucumbers. I just returned from a truly memorable trip to Israel and highly recommend it as a travel destination.
One of the highlights of the trip was an excursion to Safed, (also known as Zefat, Tsfat, Zfat, Safad, Safes, Safet, Tzfat, etc.) a charming town located in the northern part of Israel. It's situated at 900 meters (2952 feet) above sea level in the mountains of Galilee and faces east towards Golan, north to Lebanon, west to Mt. Meron and the Amud Valley, and south to Tiberias and the Kinneret.
We stayed at the Mizpe Hayamim Spa Hotel (http://www.mizpe-hayamim.com) which has magnificent views of the Golan Heights and the Sea of Galilee. It's an incredibly tranquil spot (with rules like no mobile phones in common areas) which sits on 37-acres of land, with 96 beautifully appointed rooms and suites, an organic farm and dairy, orchards, herb gardens, streams and everything else required to be in perfect harmony with nature. Meals are served in a bright and airy dining room, featuring an enormous buffet table filled with dishes made from the farm's harvest. Tons of vegetables, homemade cheeses, dips, local fish, pastas, and desserts are presented each day to the hotel patrons. The Israeli salad was always on the table, and paired well at any meal – whether it be eggs at breakfast, hummus and pita for lunch, or grilled fish at dinner. With the summer months approaching, this is a great recipe to utilize fresh garden produce from your own garden or farmer's market.
This recipe requires a little advance prep, allowing time for some of the veggies to drain, so plan accordingly.
4 - 5 large vine-ripened tomatoes (about 1 ½ pounds)
½ teaspoon kosher salt
3 tablespoons extra-virgin olive oil
2 tablespoons lemon juice from 1 lemon
¼ cup finely chopped red onion
½ red bell pepper, finely chopped
¼ cup finely chopped fresh mint leaves
¼ cup finely chopped parsley leaves
Ground black pepper
2 medium thin skinned cucumbers, peeled, quartered, seeded, cut into ¼-inch pieces, tossed with 2 teaspoons salt in strainer set over bowl, and drained about 1 hour (discard liquid)
Core and halve tomatoes, then cut each half into 4 or 5 wedges. Toss wedges with salt in large bowl; let rest until small pool of liquid accumulates, 15 to 20 minutes.
Meanwhile, whisk oil, lemon juice, red onion, red pepper, mint, parsley, and pepper to taste in small bowl. Pour mixture over tomatoes and accumulated liquid and toss to coat. Rest to blend flavors, about 5 minutes.
Add drained cucumber pieces; toss to combine. Adjust seasonings and serve immediately.
The buffet at the Mizpe Hayamim Spa Hotel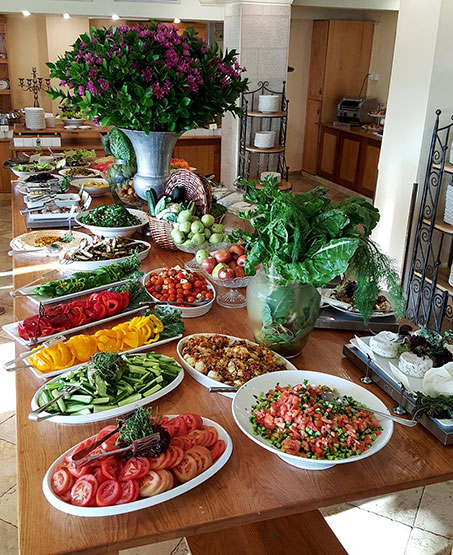 Mizpe Hayamim Spa Hotel Gardens & View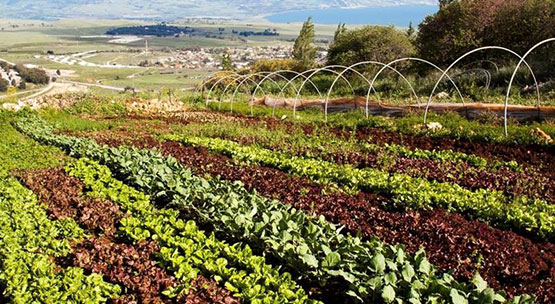 James Moore has been a cooking enthusiast since childhood and started blogging as a way to share favorite recipes with friends and family. His site, Cook Like James has grown to include restaurants, cookbooks, wines, and favorite places.