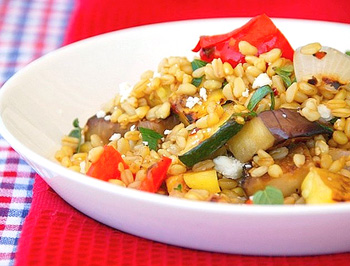 Summer time means grilling time. And I have been doing a lot of it lately.

One of the perks of living in a condo is that you reap all of the benefits of grilling without all the hassle: The gas tank on the grill is always full. The grill is so big I could cook a whole pig on it if I wanted to (I don't, but it's nice to know that I could). And best of all, the grill smell doesn't get trapped inside the house (cause let's face it, that steak you enjoyed for 7:00 o'clock dinner last night doesn't smell so great at 6:00 am the next morning). Neither does extra strength Febreeze.

So this past Sunday after returning from the farmers' market with bags full of red bell peppers, zucchini, and eggplant, I knew I had to make some marinated grilled vegetables. A good portion of them went into this Farro and Grilled Vegetable Salad, the fourth salad of my Super Satisfying Salads Series.

What is farro? Farro is the mother of all grains. Really. This deliciously nutty, chewy whole grain was used by the Egyptians over 6,000 years ago.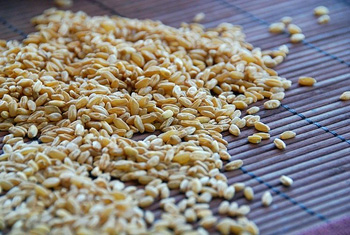 Yet, it's only relatively recently that it's become vogue. Farro or emmer is most closely associated with Italian cuisine and has been enjoyed there since ancient Roman times. Unfortunately, because farro is rather difficult to grow, it eventually became replaced by durum wheat.
Over the last few years, thanks primarily to European chefs and gastronomes, farro has staged a comeback and is rightfully reclaiming its place at the dinner table. I for one couldn't be more pleased. Farro is a satisfyingly chewy grain that is high in fiber and protein, which helps keep you full long after you've finished eating it. Plus, farro is remarkably versatile: use it in salads, as a stuffing, as a breakfast cereal, or in place of rice or pasta.

Where can you buy farro? Some organic markets carry it, though the best place to find farro is at an Italian market or deli. Farro is pricey. A 15-20 oz bag typically ranges from $6-10, but trust me when I say it's worth it. If you can't find farro, then spelt or barley make good substitutes. They don't have exactly the same firm texture and nutty flavor, but they are tasty and cook more quickly.


Farro and Grilled Vegetable Salad
Serves 4

1/2 cup dry farro

Marinade:
1/4 cup olive oil
1/4 cup balsamic vinegar
1/2 teaspoon crushed red pepper flakes
1/4 teaspoon salt

Vegetables:
1 small-medium eggplant, cut into 1/2-inch thick slices
1 red bell pepper, halved
1 medium zucchini, cut into 1/2-inch thick slices
1 medium summer squash, cut into 1/2-inch thick slices
1 large onion, preferably Vidalia, halved

Dressing:
4 teaspoons extra virgin olive oil
2 tablespoons, plus 2 teaspoons white balsamic vinegar (or regular, if you prefer)
2 teaspoons water
2 tablespoons, plus 2 teaspoons lemon juice
1/2 teaspoon red pepper flakes
salt, to taste
1/4 cup mix chopped herbs such as basil, oregano, and parsley

2 tablespoons feta cheese, optional for garnish

Soak farro in cold water for 30 minutes.

Meanwhile, in a large Ziploc bag or tupperware container, add ingredients for marinade and shake well. Add vegetables, and shake until well coated. Marinate for 30-45 minutes.

To make the dressing, simply whisk all ingredients (except herbs) in a small bowl and set aside. Add herbs just before finishing the salad so they stay green and fresh.

Drain the farro. Place in a small pot and cover with 3-4 inches of water. Bring to a boil and cook uncovered at a rolling boil for 20 minutes, or until tender. Cooked farro should be firm and chewy but not hard. Drain and place in a large bowl.

Drain marinated vegetables. Place on a hot grill that has been lightly oiled. Grill vegetables for 5-7 minutes per side on medium-high heat, or until tender and lightly charred. Chop vegetables into 1-inch pieces. Add to the bowl with the cooked farro, then add dressing and fresh herbs and toss until well coated. Sprinkle with feta cheese, if desired.
Susan Russo is a free lance food writer in San Diego, California. She publishes stories, recipes, and photos on her cooking blog, <Food Blogga and is a regular contributor to NPR's <Kitchen Window. She is also the author of Recipes Every Man Should Know
and The Encyclopedia of Sandwiches
.