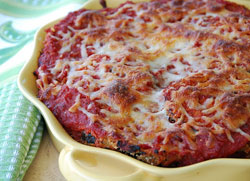 I realize that most of the country is melting right now, and that everyone is looking for no-bake dinners and salads. But sometimes, in spite of the heat, a girl's gotta have some warm, belly-filling, Italian comfort food, like eggplant parmigiana, or more affectionately, eggplant parm. As far as I'm concerned, eggplant parm is a year-round food, but it's the best from August-October, prime eggplant season.

Eggplants have a long history. The earliest ones were grown in India between 4,000-5,000 years ago. Eggplant was introduced to the Mediterranean region in the early Medieval period. That's when Italians discovered eggplant, and they still prize it for its rich, creamy, flavorful flesh.

Eggplant parmesan, also known as melanzane alla Parmigiana or Parmigiana di melanzane, is a treasure of Neopolitan cuisine. It consists of thick slices of breaded eggplant that are fried in olive oil until golden then layered with tomato sauce, mozzarella cheese, and basil and baked until bubbly.

In the US eggplant parmigiana is most commonly found at pizzerias, delis, and Italian-American mom-and-pop restaurants. It's typically inexpensive, delicious, and satisfying, but not low-cal. So if you love eggplant parm, but don't love the calories that come with it, then make your own baked eggplant parmigiana.

As for the hot weather, just crank your AC, then make a big batch of eggplant parm in your comfortably cool kitchen.
Baked Eggplant Parmigiana
Serves 4

Traditionally, eggplant is fried in oil on the stove top. However, baking it drastically reduces the calories and fat without sacrificing flavor. Plus you get to eat more.

Eggplant:
2 large eggs
a pinch of crushed red pepper flakes
a couple of pinches of salt
3/4 cup bread crumbs (preferably plain)
1/4 cup grated Reggiano-Parmigiano cheese
1 large eggplant, cut into 3/8-inch thick slices (yield 10-12 slices)

Marinara Sauce:
2 teaspoons olive oil
1 shallot, diced
1 (28 ounce) can crushed tomatoes, preferably San Marzano tomatoes*
1/4 teaspoon crushed red pepper flakes (more if you like some heat)
a couple of pinches of salt
2 heaping tablespoons each of finely chopped fresh basil and parsley
3/4 cup shredded part-skim mozzarella cheese
1/2 cup grated Reggiano-Parmigiano cheese

1. In a small bowl, whisk eggs, crushed red pepper, and salt. Pour into a wide, shallow bowl or plate.

2. Mix breadcrumbs and 1/4 cup grated cheese in a separate wide, shallow bowl or plate.

3. Slice eggplant. Dip one slice at a time in the egg mixture, allowing excess to drip into the bowl. Dredge in the bread crumbs, ensuring that the entire slice of eggplant is coated with the crumbs. Place on a large baking sheet. Repeat with remaining slices.

4. Bake eggplant at 400 degrees F for 15 minutes, or until golden and crisp.

5. While the eggplant is cooking, the marinara sauce can be made. In a medium pot over medium heat, warm 2 teaspoons olive oil. Add shallots and saute 2-3 minutes or until translucent. Add the canned tomatoes, crushed red pepper flakes, and salt. Stir until well combined. Reduce heat to medium-low. Let sauce lightly bubble for 8-10 minutes, or until slightly thickened. Turn off heat. Stir in the fresh herbs.

6. To assemble the eggplant parmigiano, use either one 9-inch round or 8-inch square baking dish. Start by covering the bottom of the dish with a layer of marinara sauce. Add 4 slices of baked eggplant (larger slices on the bottom), and top with 1/3 of the shredded mozzarella and 1/3 of the grated cheese. Repeat two more times, or until all ingredients are used.

7. Bake at 400 degrees F for 25-30 minutes, or until the sauce begins to bubble and the cheese turns golden brown. Allow to cool for 10 minutes before slicing.

*San Marzano tomatoes are Italian plum tomatoes that are prized for their sweeter, less acidic flavor. They can be found in Italian specialty markets and some major supermarkets.
- Also published on Susan Russo's site FoodBlogga.