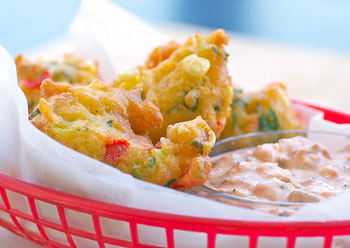 If there's one thing I learned about food while living in North Carolina, it's that anything can be battered and fried: steak, okra, pickles. Heck, even butter, as Paula Deen, proved, can be battered and fried.

It's not just Southerners though. Americans love battering and frying all types of foods. New Englanders have fried clams. Midwesternerns have fried pork. Southwesterners have fried chiles. Texans have fried Coca-Cola. Seriously.

Yet, of all these devilishly fried, crispy treats, corn fritters may just be the best. Tender sweet corn is encased in a pillow of sweet batter and fried until doubled in size and tantalizingly golden and crunchy. With sweet corn season upon us, there is no better time to make Crispy Corn Fritters with Chipotle Cream Cheese Dipping Sauce. They're impossibly simple to make and impossible to resist.
Crispy Corn Fritters with Chipotle Cream Cheese Dipping Sauce
Makes 14-16 fritters

Fritters:
2 teaspoons canola
1 ear fresh sweet corn kernels (about 1 cup)
2 scallions, thinly sliced
1 small red bell pepper, diced
1/4 cup chopped fresh cilantro
1 cup biscuit mix
1/2 teaspoon salt
1/2 teaspoon cayenne pepper
1/4 teaspoon cumin
The zest of 1 lime
1/4 cup milk
1 large egg
Dipping Sauce:
3 ounces PHILADELPHIA cream cheese, softened
3/4 cup chipotle salsa
1 to 2 tablespoons chopped fresh cilantro

1. In a large skillet over medium-high heat, warm 2 teaspoons canola oil. Add corn and saute 2 minutes or until golden brown. Add scallions and red bell pepper, and saute 3 to 5 minutes, or until vegetables are browned but not too soft. Stir in the cilantro. Remove from heat and set aside.
2. In a large bowl stir biscuit mix, salt, cayenne, cumin, and lime zest. Whisk the milk and egg and add to the biscuit mixture. Stir until just combined. Add the vegetables and stir until just incorporated.

3. In a deep, heavy bottomed pot, add 2 inches of canola oil, and heat to 375 degrees F. Drop batter by the teaspoonful into the hot oil and fry a few at a time, 30 to 60 seconds, flipping once, until golden brown all over. Transfer to a paper-towel lined plate. Repeat.

4. To make the dipping sauce: Combine all ingredients in a small bowl and stir until well blended. Serve with hot fritters.
Susan Russo is a free lance food writer in San Diego, California. She publishes stories, recipes, and photos on her cooking blog, <Food Blogga and is a regular contributor to NPR's <Kitchen Window. She is also the author of Recipes Every Man Should Know
and The Encyclopedia of Sandwiches
.