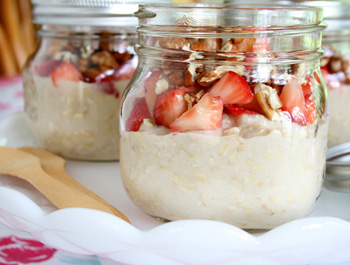 Several years ago, when I was visiting an out-of-town friend, she served oatmeal in a very interesting way. She told me we were eating breakfast Portland-style. That's where she had chilled oatmeal for the first time.
She called it Swiss Muesli, which I think of as a wholesome and hearty granola-type cereal. This was different. The night before serving she had mixed uncooked old fashioned oats with skim milk, brown sugar, dried fruit (she used dried blueberries and cranberries), low-fat vanilla yogurt, salt and chopped pecans. She covered the mixture and chilled it overnight. At serving time, she scooped the mixture into cereal bowls. No cooking and no heating involved. It was very good, and what a convenient way to serve a nutritious breakfast to overnight guests.
I've taken my friend's breakfast idea a step or two further by making it with dairy-free milk and yogurt and portioning the mixture into wide-mouth jars for individual servings. This makes it an easy grab-and-go breakfast and a very convenient way to serve a house full of summer weekend guests or a husband who heads to the golf course very very early on weekend mornings.
This time of year, fresh berries are a must in this thick breakfast soup. I packed chopped fresh strawberries on top of the oatmeal mixture. You can stuff chunks of toasted pecans just under the lid of each jar. If my cool breakfast in jars will be eaten at home, I leave the crunchy nuts out of the jars and offer them in a bowl at serving time for each person to add as they wish.
A pint-size wide-mouth jar is just the right capacity to hold a serving of chilled oatmeal along with plenty of berries and nuts, but any wide-mouth jar will do the trick.
Children will enjoy eating their breakfast from a jar. In fact, everyone will find it fun to eat breakfast from a jar.
I served chilled oatmeal last week with Strawberry-Rhubarb Scones that I posted not long ago. It was a great taste and texture combination.
If you like the idea of the ease and convenience of preparing and serving meals in a jar, check out the Cool Veggie Bliss In A Jar that I have in my column this week. It's a great lunch.
Now all you need to do is make room for all of these jars in your refrigerator.
Chilled Oatmeal In A Jar
2 1/4 cups uncooked old-fashioned rolled oats
2 1/4 cups plain almond milk or flax milk
1 1/2 cups Greek-style dairy-free vanilla-flavored yogurt
3 tablespoons brown sugar
1/4 teaspoon salt
Fresh berries (strawberries (chopped), raspberries, blueberries)
Toasted pecans, broken
In a large mixing bowl, blend oats with milk, yogurt, brown sugar and salt. Spoon the mixture into wide-mouth jars. Scoop berries on top of the oat mixture. Top with nuts. Seal jars and refrigerate overnight. Makes about 6 servings.
Tips from the cook
Skim milk and low-fat vanilla yogurt can be used for the dairy-rich version of this recipe.
The original recipe I got from my friend calls for 3 tablespoons dried fruit and 3 tablespoon chopped nuts to be stirred into the mixture in a large bowl before overnight refrigeration.
I used Greek-style SO Delicious dairy-free cultured coconut milk vanilla yogurt.
Sue Doeden is a popular cooking instructor, food writer and integrative nutrition health coach. She is the host of Good Food, Good Life 365 on Lakeland Public Television. Her own hives full of hardworking bees and her love of honey led to the creation of her recently published cookbook, Homemade with Honey.