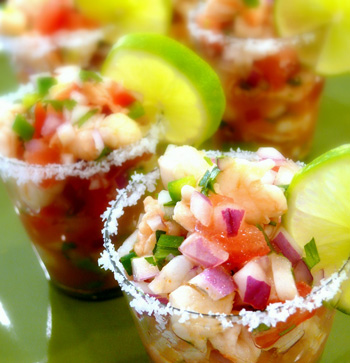 February and March make me dream of summer. I want "summer" to sweep over me, leaving behind a vibe incomparable to other seasonal mind-sets. I have so many happy memories of summers past, and when these recollections come over me, I feel almost giddy with anticipation of good times ahead.
While I have many good childhood reminiscences of long, lazy, warm days, there are some memories more outstanding than others; running through lawn sprinklers, endless games of hide 'n seek (until our parents called us home), hot dogs on the grill with lots of pickle relish, double scoop-peppermint ice cream cones melting relentlessly down to my elbows, sitting in the stands at Dodger Stadium for a doubleheader on a Sunday afternoon and sweet, icy-cold snow cones.
As an adult, summertime remains synonymous with kicking-back, however, at my house, relaxing demands good food be part of the equation. One of my favorite tastes of summer happens to be ceviche. And right about now, I need a taste of summer. With seafood poached in citrus juices and paired with fresh ingredients, this ceviche explodes with vibrant flavor and color. It's irresistible once you start eating; you might want to make a little extra just in case everyone wants a second nibble.
The ceviche is easily prepared a couple hours ahead of serving time and will be a memorable staple with your evening meals on the back porch.
Try this dish with Pinot Gris, it's awesome together.
Ceviche...My Way
1-1/2 pounds extra-large shrimp, peeled, deveined and halved lengthwise
1/4 pound bay scallops
1/2 cup fresh orange juice
1/2 cup fresh lemon juice
1/4 cup fresh lime juice plus more for dipping glasses
1/4 cup ketchup
3 cloves garlic, crushed
1/2 cup diced white onion
1/2 cup diced red onion
1 green onion, thinly sliced (white and green parts)
3/4 cup diced tomato, seeded
1/8 cup minced cilantro
1 Tablespoon diced jalapeno, seeded
1 Tablespoon olive oil
1 Tablespoon hot sauce
2 avocados, diced
Kosher salt
Slices of lime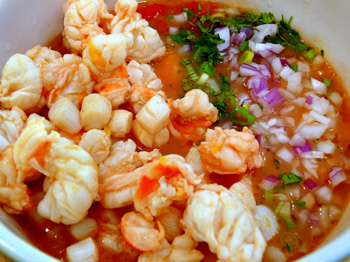 Add orange juice, lemon juice, lime juice, ketchup and garlic to a medium saucepan and bring to a boil. Add shrimp and scallops; reduce heat and cook for 3 minutes. Using a sieve, drain shrimp reserving citrus juice mixture.
Place shrimp and scallops on a plate and put in the fridge to chill. Cool down the citrus mixture by placing it in the freezer for 30 minutes or nested in a bowl of ice water.
Add tomato, white onion, red onion, green onion, jalapeno, cilantro, olive oil, and hot sauce to the cooled citrus mixture. Add chilled shrimp and scallops stirring well to coat.
When ready to serve, dip serving glasses into lime juice and then into kosher salt. Spoon diced avocado into the bottom of each glass and spoon shrimp-scallop mixture with juices on top. Serve immediately or chill up to two hours. Garnish with lime slices.
Cathy is currently in the development stages of her vineyard andwinery in the Willamette Valley of Oregon. She is a food writer forDavis Life Magazine and blogs daily about wine, food and everydayliving. She lives with her husbandand two sons. You can visit her at noblepig.com.