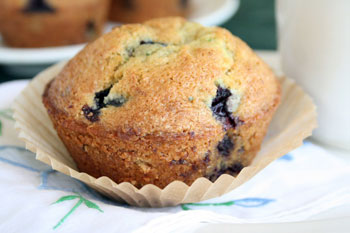 A pleasant, bright fragrance wafted from the work bowl of my food processor as I pulled the top off. I had just whirled granulated sugar and chopped lemongrass through the sharp blade of my faithful workhorse, producing a delicately-scented lemon-infused sugar.
I was preparing to mix up a batch of zucchini muffins with subtle hints of lemon without the tart bite and plump, sweet blueberries.
I have lemongrass growing in my little garden this year. Lemongrass is a staple of Asian cuisines, used like an herb to add aromatic, lemony flavor without the bite of citrus. It looks like grass, but the portion closest to the soil eventually becomes long, thick, pale green and reed-like. This lower portion is the usable part of the plant.
Generally available in most well-stocked supermarkets, it is most often sold in plastic packets hanging with all of the fresh herbs. In Asian markets and specialty food stores, you will probably find the whole stalk with grass-like blades still attached.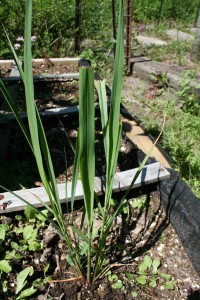 The lemongrass in my garden needs a bit more growing time before it's ready to harvest. I bought one of those plastic packets holding lemongrass that didn't look very fresh. As soon as I started to remove the tough outer layers from each stalk, the scent of lemon rose to my nose. I chopped up a couple of stalks of lemongrass and put it into the food processor with sugar measured out for the muffins. I turned on the machine and let it do its thing.
I used 2 stalks of lemongrass to achieve a faint and mysterious taste of lemon in the baked muffins. Use 3 stalks if you want more pronounced lemon flavor.
Bluegrass Zucchini Muffins are a tasty way to enjoy fresh, local blueberries and some of that zucchini that is showing up in home gardens. Moist, not too sweet with a slight taste of lemon and some good-for-you ground flax seeds, these muffins are freezer-friendly — great for breakfast, snack or on the side of a salad plate.
You may decide to plant lemongrass in your garden next year.
Bluegrass Zucchini Muffins
1 1/2 cups granulated sugar
2 or 3 (6-inch) stalks lemongrass
2 eggs
2/3 cup canola or vegetable oil
2 teaspoons pure vanilla extract
1 1/2 cups shredded zucchini
2 cups all-purpose flour
1/2 teaspoon baking powder
1/2 teaspoon baking soda
1/4 teaspoon salt
1/4 cup ground flax seeds
1 pint fresh blueberries, rinsed and drained
Preheat oven to 400°F. Grease muffin tins or line with paper liners.
Cut off and discard the root end and reedy top of lemongrass, leaving about 6 inches of usable stalk. Peel and discard the outer two or three layers from each stalk, or as many as required to reach the pale, soft inner core. Slice, then chop the stalks. Put sugar in food processor with chopped lemongrass. Process until none of the lemongrass can be seen in the sugar.
In large mixing bowl, beat eggs. Add lemongrass-sugar, oil, vanilla and zucchini. Beat well to mix. Sift flour together with baking powder, baking soda and salt. Add to mixing bowl along with ground flax. Mix only until blended. Gently stir in blueberries.
Spoon batter into prepared muffin tins to 3/4 full. Bake about 20 minutes, until firm to the touch. Allow muffins to cool for 10 minutes in the pan. Carefully remove muffins from pan and transfer to wire rack to cool completely. Makes about 1 1/2 dozen muffins. Store in airtight container for up to 3 days.
Sue Doeden is a popular cooking instructor, food writer and integrative nutrition health coach. She is the host of Good Food, Good Life 365 on Lakeland Public Television. Her own hives full of hardworking bees and her love of honey led to the creation of her recently published cookbook, Homemade with Honey.