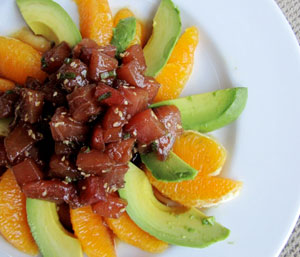 I always think of avocado as one of my top summer foods. On wheat bread with goat cheese and tomato, alongside a quesadilla, on toast, or smashed with a fork into guacamole, avocados at their prime are just the best!
I have been obsessed with the combination of avocado, orange, and raw fish (this recipe may have started it). Usually, we keep the fish plain, with microgreens, avocado, maybe citrus, and a simple dressing, but I decided to take a stab at a tartare with this recipe.
Now I'm not 100% sure if this technically counts as a tartare – it might have poke leanings (feel free to enlighten me!), but whatever it is, this Asian-inspired dish is the perfect appetizer for a warm summer evening!
Asian-Inspired Ahi Tartare
serves two as a good-size appetizer
1 tablespoon vegetable, corn, or canola Oil
Fresh ginger
2 tablespoons soy sauce
1 teaspoon wasabi powder
1 green onion, thinly sliced
1/2 teaspoon toasted sesame seeds
1 tablespoon water
1/3 of a pound sushi-grade ahi tuna*
1 large orange
1/2 avocado
*You can ask your fishmonger (you know my favorite…Pier 46!) to remove the blood part and skin for you to make your life easier.
1. Peel the end of a piece of ginger and use the peeler to shave off about a teaspoon of fresh ginger. You can also grate or mince it. Combine with oil and let rest for 1-2 hours.
2. Combine soy sauce, wasabi, green onion, sesame seeds, and water in a medium bowl – you will be adding the tuna later. You can let this sit for an hour or so if you would like to intensify the flavors a bit.
3. 30 minutes before you are ready to eat, cut your tuna into 1/3 of an inch cubes. Add to bowl with soy sauce mixture. Strain the ginger from the oil and add oil to marinade. Segment the orange and squeeze the juice of the "leftover" pithy parts into the bowl; stir to combine. Refrigerate.
4. When ready to serve, slice avocado and arrange around the plate with the segmented orange slices. Pile the ahi in the center (use a slotted spoon to do this – you don't want all of the marinade on your plate).
Laura is has been cooking since she was a young girl and currently lives and works in Paso Robles, California. She share her passion for food on her blog Sweet Life Laur.