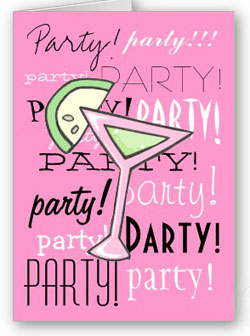 When I have a party, I try to invite everyone. I really do. And if my best friend has another best friend, I invite the other best friend. I include the world. If I happen to run in to you (random person reading this) a week before said party, I will invite you even if we're not the best of friends. I even like it when people crash my parties or when someone calls me and says boldly "Do you mind? I hear you're having a party and I'd really like to go." What I LOVE about that is that the person who makes that kind of call, does know me. They know, I'm so happy to include everyone.
I believe I got this from my mother who would say, "You have to invite the whole class, not just some." Or my dad, who carried his entourage around with him, leaving no one out. Both my parents never let anyone's feelings get hurt.
One day, in maybe the 5th or 6th grade, a girl named Debby had a party and it seemed like she invited just about everyone. Except me. And maybe the worst part was that she included my best friend Susie. It felt like a real slight. On that particular weekend of Debby's party, I remember feeling very alone on Saturday night. Susie and I were pretty inseparable.
When I was in my thirties, I ran into Debby at Nate n' Al's. I was with my kids, but darted over quickly to give her a piece of my mind. I stood at her table, and I'm sure it came off as aggressive, not even remotely funny, and told her that it was very messed up to invite Susie and not me to that party in grammar school. She looked at me like I was out of my mind. Hands on my hips, I was in full-blown regressive mode, giving my speech on the injustice of it all.
I was carrying around that hurt like it happened last weekend. I kept blabbering on and on about my feelings. She sat there very silent, then looked up at me and said in a monotone voice, "Ummm, I'm having a party next week, would you like to come?" Clearly she was strong-armed into inviting me to her new party – 25 years later –and damn it if wasn't going to go!!!!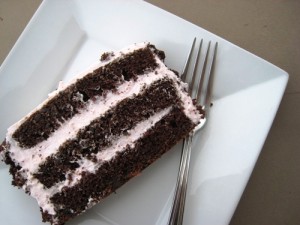 When the day rolled around, I told my then husband that we had to go to a party that night and laid out the whole shameless story. I'm sure Debby was also explaining to her husband who I was and why she had to invite me. I wonder if she thought I knew about her current party and just went up to her to finagle an invite. I didn't care. I went to the party. I'm not proud. And what a sport Debby was to finally include me!
Here is a cake Susie Lohn and I would make on Saturday nights … you know, when she wasn't at people's parties from which I'd been snubbed.
We made a devils food chocolate cake with Marshmallow Frosting. Lets be honest, we were retro– well, it actually was the 60′s so we used the mix. Either Betty Crockers or Duncan Hines. And I'm okay with you doing that. I'll look the other way.
Marshmallow Frosting
(on any devils food cake and we put a dot or two of red dye to make the frosting pink)

1/4 cup (1/2 stick) margarine or butter, softened
1 jar (7 oz.) JET-PUFFED Marshmallow Creme
1 teaspoon vanilla
1 pkg. (16 oz.) powdered sugar
1 to 2 Tablespoons milk, divided
PLACE butter, marshmallow creme and vanilla in small bowl; beat on medium speed until well blended. Gradually add sugar, beating after each addition until well blended.
BLEND in 1 tablespoon of the milk. Add remaining 1 tablespoon milk if necessary for desired spreading consistency.
Fredrica Duke shares how she discovered her love of food while growing up in Los Angeles on her blog Channeling the Food Critic in Me.