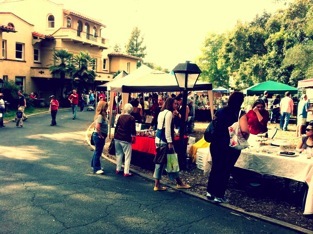 Last weekend, I ventured up to the Altadena Urban Farmers' Market at the Zane GreyEstate. There, all sorts turned out on the glorious, sunny JanuarySunday. Men and ladies with long grey hair, red-lentil eating bralesschicks, beautiful couples in crumpled clothes with feral angel babiesin tow and Pasadena ladies in crisp, cropped pants all ambled about thefading estate.
Curious to see the property, eager to pet one of the resident goats and hopingto find some amazing back-yard yuzu and artisan goat cheese, Martin andI signed the legal release at the entrance and perused the booths setup all over the lawn and asphalt driveway. For sale were leather belts,fabric bags, handmade soaps, honey, prepared foods, jams galore,multiple varieties of granola, home-baked breads and many kinds ofbaked goods. I didn't get near any of the baked items.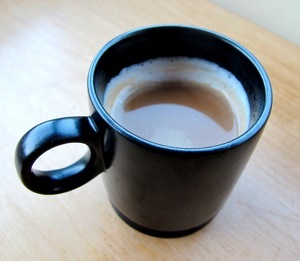 I didn't want toget too close and have that awkward moment when I decline to purchasethe proffered sweet. I got the distinct impression that the cookiesetc. were vegan, and while I'll eat vegan vegetable and grain disheshappily any day, I see butter and eggs as necessary additives tocookies.
Wewere not big consumers that day. I'm always looking for good, freshproduce to supplement my garden stock, but only big squash wereavailable that day. Maybe in the spring there will be more fruits andvegetables. I love to bake, make my own granola and jams and have beesfor honey, so nothing was too threatening to my pocketbook.
We did buysome very tasty hand roasted Ethiopia Yirgacheffe coffee from Ross Roast. He roasts green coffee beans in small batches in a stove-top popcorn popper. Very good - very underground.
The AUFM is held on the 3rd Sunday of every month, from 1-4pm, rain or shine, at the Zane Grey Estate.
Jeanne Kelley is an established food writer,recipe developer and food stylist based in Los Angeles, California. Integratinglocally grown produce with globally influenced flavors, Kelley'sapproach to cooking is both simple, festive and fresh. Her recipes can be found in her latest book is Blue Eggs and Yellow Tomatoes: Recipes from a Modern Kitchen Garden
and on her blog Eat Fresh.