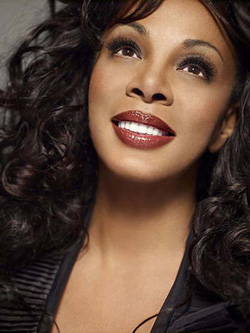 Donna Summer emerged in 1975 and dance music has never been the same! Summer co-wrote and recorded a demo version of "Love to Love You Baby." Producers liked Summer's demo so much that they released an unprecedented 17 minute long version. The song featured Summer's tantalizingly soft vocals and sensual sound so suggestive that many radio stations initially refused to play the song. The path-breaking disco track became an overnight sensation, skyrocketing to No. 2 on the U.S. singles chart.
I was shocked to hear May 17th that Donna Summer had passed away. Donna Summer was just 63 and still breaking records for her phenomenal singing as well as her art work. She blamed her lung cancer on the pollution in New York City following 9/11. Her music brought so much joy to me and others of my generation.
Like many great Black singers, Summer began singing in Church at the age of ten. To everyone's surprise, the voice that bellowed out of Donna's tiny body that Sunday morning was overwhelmingly powerful and beautiful.
In 1967, Summer auditioned for and was cast in a production of Hair scheduled to run in Munich. Summer learned to speak fluent German within a few months, and remained in Munich, marrying German singer Helmuth Sommer in 1974 and giving birth to the first of her three daughters.
"Love To Love You Baby" paved the way for such international hits as "MacArthur Park," "Bad Girls," "Hot Stuff," "Dim All The Lights," "On The Radio," and "Enough Is Enough," as well as the Grammy and Academy award winning theme song "Last Dance," from the film "Thank God It's Friday," which remains a milestone in Donna's career.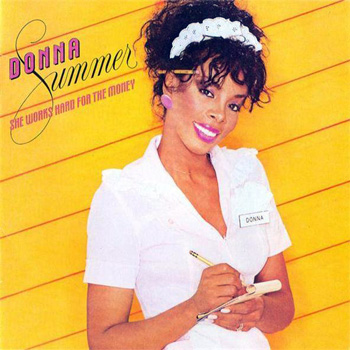 In 1983, she scored her biggest hit of the decade with "She Works Hard for the Money." The title track, based on Summer's feelings upon encountering a sleeping bathroom attendant at a restaurant, has become a feminist anthem; one of the most-played songs of all-time.
In addition to her recording and performing career, Summer is an accomplished visual artist whose work has been shown at exhibitions worldwide including Steven Spielberg's "Starbright Foundation Tour of Japan", The Whitney Museum and the prestigious Sotheby's.
Since 1989, she sold over 1.2 million dollars in original art. In 2003, Random House published her autobiography Ordinary Girl co-authored with Marc Eliot. Also that year, Universal released "The Journey," containing all of her original hits, as well as two new songs.
Summer married singer-songwriter Bruce Sudano in 1980, and they had two daughters.
Known as the "Queen of Disco," Summer will be remembered as perhaps the greatest singer in disco history. But she was so much more: a vocalist of incredible range and power whose voice was equally at home in German-language show tunes, racy disco dance tracks and powerful gospel ballads.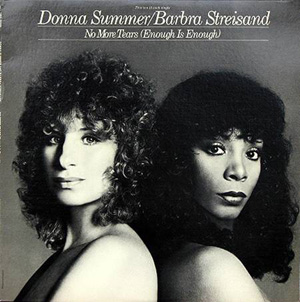 Not long before her death, Summer shared her foremost life aspiration: "What I aspire to in my life, truly, is to be loving," she said. "And I don't always achieve that, but that's my aspiration."
Donna holds the record as the first female to have four #1 singles in a 12 month period; three as a solo artist and one as a duo with Barbra Streisand. A five-time Grammy winner, Donna Summer was the first artist to win the Grammy for Best Rock Vocal Performance, Female (1979, "Hot Stuff") as well as the first-ever recipient of the Grammy for Best Dance Recording (1997, "Carry On"). In 2004, she became one of the first inductees, as both an Artist Inductee and a Record Inductee (for 1977's "I Feel Love") into the Dance Music Hall of Fame in New York City.
In 1994, she released "Endless Summer," containing a new song, "Melody of Love," which became Billboard's #1 Dance Record of the Year. She also released the critically acclaimed gem "Christmas Spirit," a collection of Summer's original songs and holiday standards recorded with the Nashville Symphony Orchestra.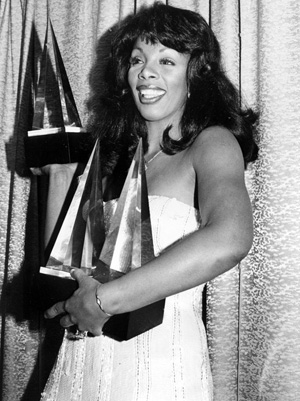 Donna Summer earned six American Music Awards, three consecutive #1 platinum double albums (she's the only artist, male or female, ever to accomplish this), 11 gold albums, four #1 singles, two platinum singles, and 12 gold singles. Donna is also the first female artist to have a #1 single and #1 album on the Billboard charts simultaneously ("Live & More;" "MacArthur Park" 1978) a feat she also repeated six months later ("Bad Girls" & "Hot Stuff" in 1979). She charted 31 #1 hits on Billboard Pop/R&B, Disco/Dance, Album charts combined, over a period of 35 years. Donna Summer is ranked #24 on Billboard Magazine's 50th Anniversary issue featuring the Hot 100 Artists of All Time. A 2008 Rock & Roll Hall of Fame nominee, it is estimated that Donna Summer has sold more than 130 million records worldwide.
She was the first solo artist in history to have three consecutive #1 double-albums on the Billboard charts. The only other musical act to accomplish this feat? The Beatles.
Donna was awarded a Star on the Hollywood Walk of Fame.
With all her success, this Boston native was a Renaissance woman with her feet firmly planted on the ground. At the end of the day the most important thing to her was family.
"I think, no question, when you're a singer and you're looking to become so successful, it's the moments of success, singing the Oscar-winning song and having that moment, winning Grammies, and all that, but after you get those things, you're sorta sitting there in the room and you're thinking, 'O.K., what next?' When actors say they got the Oscar and then, they didn't get the job for five years somewhat it feels like internally, and it's like, 'Oh, O.K., is that all there is?,' and so, I think you just have to keep setting new goals for yourself. For me, after I had success on that level, my next goals were personal, they were my family, go on it's time now, 'You've done this, you've proven this, let's get on with your real-life.'"
May the first real Dance Diva, Donna Summer, rest in peace.