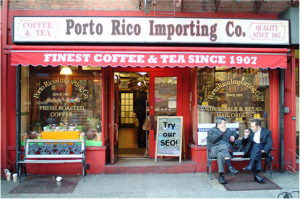 New York, sometimes you just step in it.

My shopping and Jill's are very different animals – she buys cute little things for other people, whereas I buy food for myself. Well, other people will get some of it, too. I don't eat alone. And grocery shopping in the Village – if you know where to go – is one of the great joys of living in New York City. All the stores I have in mind exist in time warps – as if they haven't changed a bit since the early 1900's – which is exactly the truth.
They are — each store – of Italian origin, family-owned-and-operated and scrupulously dedicated to a kind of hands-on, personal involvement in each transaction. They have pride in what they sell. We quickly dispensed with Jill's shopping list – a gift certificate for a special restaurant, a scarf for me(!), some tchochkes (that's Jewish for cheap, little crappy things) for drop-in gifts, the best of which is something called, "Uh Oh" — it's a little box with a pair of emergency underpants inside — and then we set off for my shopping spree – first to Bleecker Street for a double espresso at the fabled Porto Rico Coffee Company store. Just step through the door and you shed a hundred years. A double espresso is crucial when one sets out on a shopping trip. It gives one focus, energy and a skittery sense of optimism. I also picked up a pound of their Cent'anni espresso beans for home consumption.
Then we made a beeline for Sullivan Street. There's this areathat's not quite the Village and not quite Soho – Sullivan Street around Houston. It's the mother lode for food shopping.
At 156 Sullivan is Joe's Dairy, where you can buy the very best parmigiano at the very best price from some very nice people. They also have their justly famous smoked mozzerella, which people come from miles around to buy and savor. We bought some beautiful reggiano and a wedge of "Rosie Goat", which is goat cheese packed in rosemary leaves. Right across the street at 149 Sullivan is Pino's Prime Meats. Again, the store has been there since before your grandfather was born.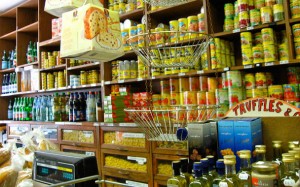 Today I'm only buying Pino's pork sausages – to crumble up in Penne alla Norcina with some porcini and black truffles (recipe to follow in a later blog). It's a shame that I'm not buying a prime rib roast or some veal scallopini so that I can discuss the recipe in depth – and in Italian — with Pino and have what often turns out to be a major psychological consultation.
Next time.

Then we made our way across Houston Street and up the block to Raffetto's, the venerable fresh pasta store. Once again we're in an establishment that dates back to earliest moments of the Twentieth Century, with ancient bins filled with various dried pastas and shelves with cans of the best tomatoes. We bought fresh tortellini – two kinds: one stuffed with pork and one with mushrooms. I'll boil up both together in my home-made broth for our traditional family tortellini in brodo for Christmas.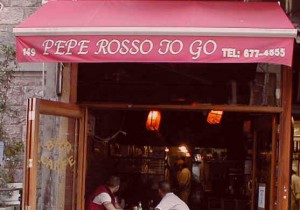 Back across Houston Street and down Sullivan again for lunch at Pepe Rosso To Go, which actually shares an address with Pino Prime Meats. Pepe is at 149 Sullivan and Pino is at 149 (2).
From its full name you can gather than Pepe Rosso To Go is mostly a take-out spot. But there are five tables — deuces — lined up against one wall, where a maximum of ten thin people can sit and have lunch. If any of the patrons are carrying a little weight, the tables only seat eight.
We squeezed into the first table by the window. Jill had the chicken Milanese over arugula and tomatoes and I had the pasta special, which was pappardelle with sausages. Both dishes were perfect. Well, better than perfect – they were real – with the freshest ingredients, cooked to perfection with no pretention. I love Pepe Rosso To Go.
Stepping back in time can be a very romantic thing to do.
It gets you back to the basics, which is how we spent the rest of the afternoon.
Michael Tucker is an actor and author whose third book is the recently published Family Meals: Coming Together to Care for an Aging Parent
. He writes about his love of food on his blog Notes from a Culinary Wasteland.