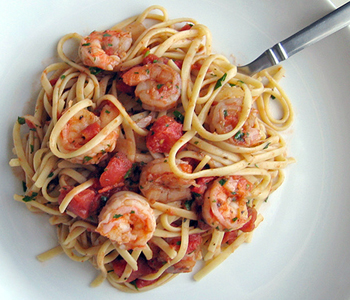 I love pasta and seafood together, especially shrimp and pasta. This dish is dressed fra diavolo, like a devilish friar. Supposedly named after a Neapolitan guerrilla fighter, this recipe is a rathertraditional take on the southern Italian specialty. A little heat withpeperoncino (red pepper flakes) along with the red color of the tomatosauce give the meal a hellish flair. Pair with wine and no one canresist.

Make sure you start cooking the linguine in time so thatit is ready to go once the sauce has finished cooking. You don't needto drain or rinse the pasta. Simply use tongs to transfer the cookedlinguine directly to the sauce, which will better adhere to the starchypasta.

Shrimp Fra Diavolo

4 tablespoons olive oil, divided
1 pound large shrimp, peeled and deveined
1 teaspoon dried crushed red pepper flakes
coarse sea salt
freshly ground black pepper
1 medium yellow onion, chopped
3 garlic cloves, finely chopped
1 28-ounce can crushed tomatoes
1 cup dry white wine
1 teaspoon Italian seasoning
1 16-ounce package linguine
1/4 cup chopped fresh parsley

Heat3 tablespoons oil in a large heavy-bottomed pan over medium-high heat.Add shrimp, red pepper flakes, and salt and pepper, to taste. Cook,tossing, until opaque and cooked through, about 3 minutes. Removeshrimp from pan.

To the hot pan add 1 tablespoon oil, onion, andgarlic; sauté until translucent, about 5 minutes. Add tomatoes, wine,and seasoning. Simmer until the sauce thickens, about 15 minutes.

Whilesauce simmers, cook linguine according to package directions inliberally salted water. Return shrimp to pan and add pasta directly topan. Toss to coat pasta and warm shrimp throughout. Add parsley. Finishwith salt and pepper to taste.
Yield: 6 servings.
Joseph Erdos is a New York–based writer and editor, butabove all a gastronomer and oenophile. He shares his passion for foodon his blog, Gastronomer's Guide , which features unique recipes and restaurant reviews among many other musings on the all-encompassing topic of food.