by Alison Wonderland Tucker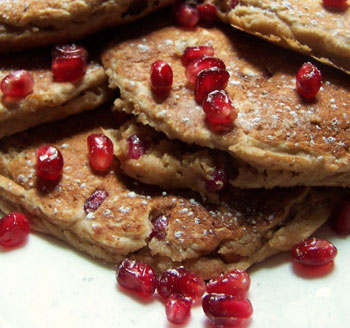 I got startled the other day while I was baking and accidentally knocked the bright orange box of baking soda to the ground, spilling the powder out into a small white mound. Dexter bounded into the kitchen and began to lick up my mess, when suddenly his tongue stopped short and he looked up at me with this "what the fuck is that?" look on his face. I was transported back to a childhood game my mother and I used to play.
My parents have been divorced since I was about one, so I have no memory of them together. Their separation was more a fact than a hardship. I grew up with my father and my stepmother in New York but would visit my mother in Washington DC one weekend a month. I think every child that spends a smaller amount of time with one parent than the other develops rituals with that parent. The familiarity of the ritual melts the separation time and you pick up right where you left off.
My mother and I made pancakes.
Now, I'm not a breakfast person and I never have been (and neither is my dad, actually). I'm good with a cup of coffee and maybe a piece of toast. But when I was little and went to DC, it was imperative that pancakes were made. My mother, you see, had invented this game.
Her kitchen had a huge wooden counter that stretched the length of one wall. Above it was a large open wooden cabinet where all of her ingredients were kept. On our weekends, my mom often woke up before I did, but as soon as I shook the sleep out of my eyes, I would scamper down to the kitchen and climb up onto that counter. She would be waiting for me, while drinking her coffee and reading the paper. "I see you're ready to get started…"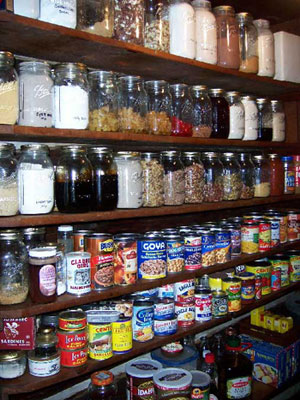 "Yes, yes, yes." I replied, my heart beating. And I smacked my hands over my eyes and stuck my tongue out. Slowly and methodically she would take things off that huge shelf, dip a teaspoon in to get the smallest amount, and then put it in my mouth. Sugar ("yum!"), salt ("yuck!"), honey ("yay!"), Marmite ("ewww!") - my mother is British and ALWAYS has some Marmite hiding somewhere.
"Do you know what this is…?" and she would wait a second before feeding me the next thing. Baking soda (I'm sure my face twisted into the same surprised and disappointed expression that Dexter's did), freeze-dried instant coffee, vanilla, cumin, cinnamon, mustard powder, molasses…
Most of them I knew instantly, but many tastes were foreign to my young palate and I learned their names and distinctions there on that counter for the first time. I eagerly awaited the next taste- even if it was horrible. It was so exciting to sample and learn. Of course, it still is for me today.
Eventually my mother would run out of items, interest or patience and we would get started on breakfast. Pancakes are not difficult to make and yet the connotation of homemade pancakes – not from a mix - is that the day is special. You do it when it's someone's birthday, or mother's day, or for an anniversary. It makes you feel spoiled. The fact that my mom and I made pancakes together, regularly and without fail, made the whole weekend feel like a special vacation - even though we did it every month.
My mother recently moved back to England and asked if I wanted anything from her house. "Just the old blue McCall's cookbook with the pancake recipe." It's tattered and stained - on one page in particular. I think she was shocked that I remembered that cookbook because she had forgotten about it long, long ago.
I was going to simply copy that recipe into this blog, but Shannon pointed out that that was pretty lazy business. I pouted for a second and then realized this was a great opportunity for me to work on a dish that I had been contemplating. It was a really successful day in the kitchen lab. Shannon was rewarded for his good advice with an amazing breakfast…
Oatmeal Pomegranate Pancakes
Ingredients
2 cups oats, separated
1 cup all purpose flour
1 cup whole wheat flour
¼ cup brown sugar
1 tablespoon baking powder
1 teaspoon salt
1 ½ teaspoons cinnamon
1/8 teaspoon ground cloves
½ teaspoon nutmeg
2 cups milk
2 eggs
1 teaspoon vanilla
¼ cup oil
1 cup pomegranate seeds
In a food processor, blend 1 cup of oats, flours, brown sugar, baking powder, salt, cinnamon, cloves, and nutmeg for a couple of pulses.
Whisk the eggs, milk, vanilla and oil in a large bowl. Add the dry ingredients plus the remaining cup of oats to the wet ingredients. Add pomegranate seeds.
Heat a large skillet to medium heat. Add a little oil to the skillet and then drop the batter in, 3-4 tablespoons per pancake. Cook for a few minutes each side, until the cakes are light to medium brown. Repeat. Enjoy!
Alison Wonderland Tucker is a chef and caterer who lives and works in New York City. She writes about her love of food and life as a chef on her blog A Wonderland of Words.