From the LA Times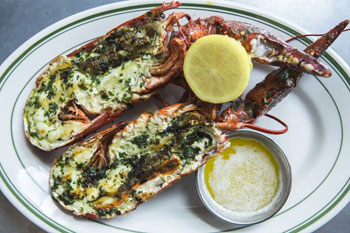 I ate my share of lobsters while spending summers in Rhode Island. My family still talks about the 10-pounder we bought from a shop in Galilee. We spent an hour scouring the neighborhood looking for someone who owned a pot big enough to cook it. Lobster is still one of my favorite foods of summer — that's when it is the cheapest, when they move closer to shore and the fishing conditions are better.
A good lobster is something to be relished, eaten with your hands, the buttery juices wiped from your chin and licked from your fingers.
The easiest way to cook lobster is simply boiled and then served on a picnic table spread with newspaper. Select a pot that is large enough to accommodate all the lobsters. Add enough salt to the water to approximate the salinity of the sea, about 3.5%. Add enough vinegar that the water tastes slightly acidic.
Bring the water to a boil, add the lobsters and cover the pot. The water should maintain a simmer but no more — that makes more tender meat. The general rule for cooking lobster is to allow 7 to 8 minutes per pound. I think lobster tends to be better when slightly less than fully cooked, but most people want their shellfish well done. This is totally understandable, but a hint of translucence in the flesh is not a bad thing.