My brother is at odds with Thomas Wolfe. He is living proof that you can go home again. Oklahoma City is just that kind of place. I can't really describe what makes my hometown so special to people who have never passed through the capital of the panhandle state. Perhaps the folks best suited to explain the city's certain 'je ne sais quoi' are its chefs. Chefs like my brother, Jonathon Stranger, Mark Dunham, Josh Valentine, Chris Becker, Kurt Fleischfresser, Russ Johnson, and the father of Mission Chinese, Danny Bowien.
Like many members of this crew, my brother left Oklahoma City at eighteen and explored various parts of the globe through a cook's lens. At age 27, armed with folders full of harrowing but valuable tales from the restaurant world and some culinary tools in his belt, he returned and thought about how he could make his mark on the city's landscape without turning a blind eye to his roots. And so Ludivine was born, a farm to table restaurant set in Midtown, a newly revitalized area of the city, where Oklahomans could taste dishes inspired by and using fresh, local ingredients, like bison (the tenderloin is my personal favorite).
But what I think makes Oklahoma City's chefs so unique is not just that they are simply introducing new approaches to food and what it means to dine out to its customers, but that they are working together, side by side, to foster a sense of community in this collective venture. They love food as much as they love the people they serve, the people they grew up with, the people of OKC.

Which is why when the devastating tornado touched ground in Moore on May 21st, leveling entire city blocks and taking 24 lives, including 9 children, it was only natural that this eclectic group would find a way to bring people together and raise money for the victims in a setting that would celebrate who we are as proud, resilient Oklahomans.
Chefs, at their core, are an altruistic lot. We tend to forget this truth when we watch tyrants like Gordon Ramsay on television and read articles about egos creating more heat in the kitchen than flames on a stove. But ask any cook on the line worth his salt why he or she got into the business and the answer will oftentimes be the same: to serve and to satisfy.
The seed of an idea rooted in this aim quickly mushroomed into a full scale, two-day event over Memorial Day Weekend. My brother reached out to Danny Bowien, a born and bred OKC chef who rocketed onto the national scene with the birth of Mission Chinese in San Francisco – not to mention a James Beard award winner and Genovese pesto champion - and within an hour Bowien had a plane ticket booked from JFK to Will Rogers Airport.
On Thursday night I tuned into Late Night with Jimmy Fallon to watch Bowien promoting the effort with a t-shirt designed by former NBA star and local artist Desmond Mason urging people to support the cause. Suddenly, Spontaneous Cuisine and Art for the Benefit of Oklahoma became a national story. Momofuko Milk Bar's Christina Tosi sent a generous assortment of her infamous cookies (with flavors like compost and blueberry and cream to name a few). Brooklyn's Sea To Table donated sixty pounds of Pollock. Walnut Creek delivered two Mangalitsa pigs and 24 legs of lamb. La Baguette Bistro made hundreds of cakes baked into the state's well-known shape. Local farms drove in truckloads of fresh produce.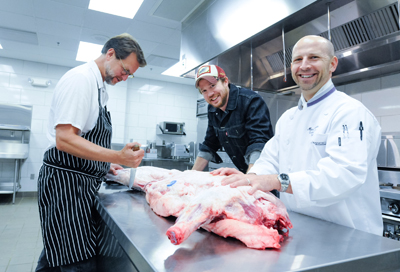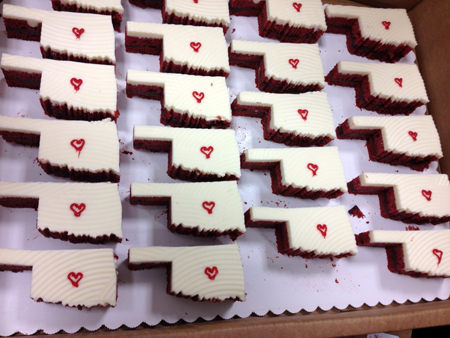 Prep began Saturday in the makeshift kitchen at the Myriad Gardens, the site of the event, with chefs working tirelessly around the clock but without complaint. "The spirit was fun. It felt like a distraction," my brother told me over the phone around midnight on Friday, his voice upbeat but slightly reminiscent of a zombie's drone on The Walking Dead.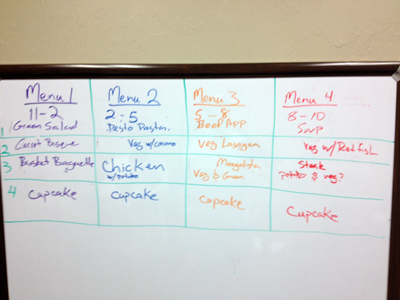 A loose, three-course menu for day one was constructed to include dishes like Pollock (with potato, chorizo, and tomato), cantaloupe soup, and porchetta with lamb. Day two belonged to Bowien. Locals would get to sample some of the chef's signature dishes with a midwestern twist like chicken fried Hokkaido scallops and kung pao (!) catfish. Bowien and crew were given carte blanche at Super Cao Nguyen, downtown's premiere Asian market.
By 11 AM on Sunday morning, a line was already formed outside with patrons eager to contribute to the relief and check out the popup restaurant. Policy was first come first serve and there was no fixed price save for a suggested donation of $35.
While families and friends happily endured the two-hour wait for a table, they enjoyed beer and wine while listening to local bands and perusing artworks provided by local talent like Mason, Dylan Bradway, Jerrod Smith, Sean Vali, Jack Fowler and Phil Danner. Proceeds from every piece sold went directly towards the fund, the total pot going to the local chapter of the American Red Cross.
Glitches in the kitchen popped up. There was no working AC and the hood vent didn't work, making the conditions for the chefs similar to those you would find in a Russian bathhouse. But the show must go on and so it did.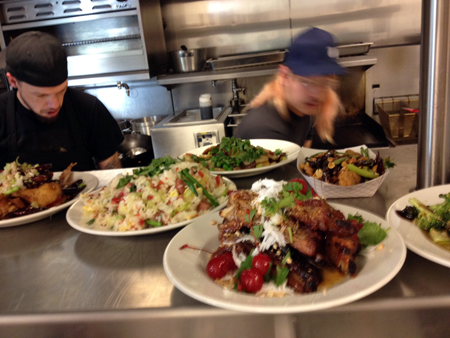 Over 1500 were served and $80,000 was raised by the time the doors closed on Monday night. Many of those directly affected by the F-5 tornado came, including some of the parents and children of Briarwood Elementary, a school demolished by the storm. After 48 hours of nonstop labor, the chefs retired to Ludivine for an impromptu after party to catch up, trade stories and unwind.
As I was brainstorming this piece last Friday, I turned on CNN to discover another storm was heading for the heartland. I called my family. No response. My brother finally texted me that he, along with several members of his restaurant staff, my mother and pregnant sister-in-law were gathered in my mother's basement on Carey Place. I couldn't believe what I was watching.
Why was this this happening, and how, in the face of this relentless nightmare, do Oklahomans rebuild and move forward? The answer, I think, is universal but particularly true for the people of Oklahoma City in this moment. In the wake of tragedy, we lend a hand to our neighbor, we hug our loved ones a bit tighter at night, and we gather together around the table to share a meal. Plainly put, we go home again.
Hope Stranger is a freelance writer. She lives in Los Angeles.