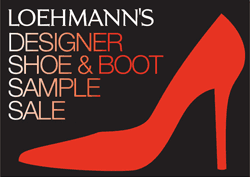 Despite the anxiety-producing hit that my 401K has taken, I'm quite sure that the current belt-tightening is not bad for me. I agree with my friend Marc that "it doesn't debit your happiness to live with less." Yet Marc still gets grief from his friend for driving a VW now instead of a BMW, and I recently got grief from my friend for returning a $45 pair of windshield wipers to Pep Boys when I found Consumer Reports "best buy" ones on Amazon for $12. Only someone wealthy, arrogant and out-of-touch belittles driving a VW or saving $33. So here are some thoughts for middle-class people like Marc and me about how to live a very good life on a VW-with-Amazon-wipers budget.

Ya gotta say:
Goodbye Neiman's – hello Loehmann's.
Goodbye Barney's – hello Ross.
Goodbye Nordstrom's – hello Nordstom's Rack.
Goodbye Lancome – hello Neutrogena.
Goodbye mani/pedi – hello nippers and PedEgg.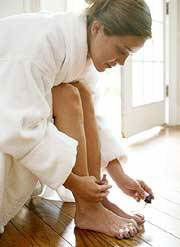 Goodbye salon facials – hello steam, scrub, mask and moisturizer.
Goodbye color by Philippe – hello beauty school student.
Goodbye spa eyebrow tint – hello Just for Men.
Goodbye LA Fitness – hello weights and walking shoes.
Goodbye Lipitor – hello Simvastatin.
Adios Gelson's – hola Costco.
Adios Whole Foods – hola Trader Joe's.
Adios Starbuck's – hola Mr. Coffee.
Adios Illy – hola Melitta.
Adios prime – hola choice.
Adios ahi at Katsuya – hola tuna melt in my kitchen.
Adios English farmhouse cheddar – hola Tillamook.
Adios Cristal – hola Korbel.
Adios Opus One – hola Two Buck Chuck.
Adios Wally's bordeaux dinner – hola Ladies' Night at the Pineapple Hill Saloon.
Adios Pinot burger – hola Fatburger.
See ya Fazio dry cleaner – howdy Maytag.
See ya shirt laundry – howdy Rowenta steamer.
See ya Benjamin Moore – howdy faded walls.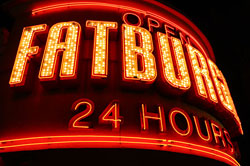 See ya central air – howdy oscillating fan.
See ya fresh flowers – howdy empty vase.
See ya AT&T – howdy Skype.
See ya full-price – howdy Goldstar.
See ya orchestra – howdy balcony.
See ya premium cable – howdy Hulu.
See ya Arclight – howdy Netflix.
See ya Border's – howdy library.
Au revoir Paris – bonjour Pasadena.
Au revoir London – bonjour Long Beach.
Au revoir Santa Barbara – bonjour Santa Monica.
Au revoir new car – bonjour new tires.
Au revoir car wash – bonjour hose.
Au revoir valet – bonjour meter.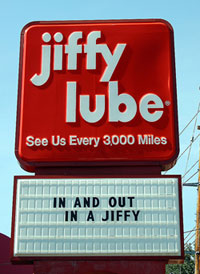 Au revoir dealer oil change – bonjour Jiffy Lube.
Au revoir corner Mobil – bonjour Costco gas line.
Au revoir airport limo – bonjour Flyaway bus.
Au revoir Admirals' Club serenity – bonjour Gate 49 frenzy.
Au revoir taxi – bonjour Metrocard.
Bye bye Party City – hi there Dollar Tree.
Bye bye Bloomie's – hi there Home Goods.
Bye bye made in Italy – hi there made in India.
Bye bye retail – hi there Coupon Mom.
Bye bye Cambio jeans – hi there Gap jeans.
Bye bye Stuart Weitzman – hi there DSW.
Bye bye Donna Karan – hi there Isaac Mizrahi…for Target.
Bye bye new blouse – hi there new blouse in the closet with the tags still on.

Bye bye 401K – breathe deep and say "I'll be okay."

In 1932, when my mother was 10-years-old, the bank foreclosed on my grandparents' house and moved the family into an apartment. Growing up, my sister and I always felt oppressed by my mother's depression-necessitated penny-pinching, and today I am struck by the irony of having to fully embrace her lessons in parsimony. A few weeks ago, a man carrying two pails rang my doorbell. Standing on the porch, he pointed to his buddy at the curb, next to a truck filled with sacks. Lifting the pails, he explained that they had very good seed and fertilizer and would spread it over my lawn for $7 a bag. My gardener normally does this, of course, but I told them to go ahead and do it anyway. And then I wondered if this was the start of a long line of people who will come to my door in the next months and years, seeking work or a helping hand; if the Grapes of Wrath imagery I thought was in the past is now a real part of my present; if I will be able to continue paying my gardener; or if my worst, unmarried-woman fears will come to pass, and I will have to go house to house looking for work myself, instead of making jokes about having to buy cheaper cheddar.

I do think I'm going to be okay, but it sure helps to eliminate wretched excess and have a few VW-with-Amazon-wipers tricks up your sleeve. Got some?
Ilene Amy Berg (aka The Berger Queen) is a television producer, antique hunter, New York and London lover, and intrepid food adventuress.