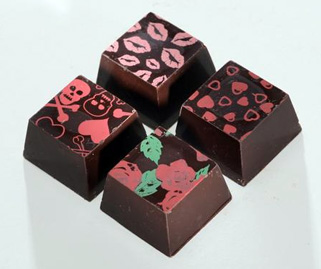 Jonathan Grahm, the owner of Compartés Chocolatier in Brentwood, is just back from a whirlwind pre-Valentine's Day tour of Japan, where 100 Compartés pop-up shops opened for the holiday in Tokyo, Osaka, Yokohama, Hiroshima, Nagoya and Kobe. Grahm's face has been plastered on billboards, little old ladies in kimonos vied for his autograph, designers wanted his chocolates to coordinate with their products (underwear, for example) and fans showered him with gifts (such as a Mickey Mouse action figure).
He is, as they say, big in Japan.
After winning a chocolate competition in Tokyo that pitted him against dozens of European contenders and brought him outsized media attention, Grahm has eight permanent Tokyo stores and is about to open another in Shanghai. But the 28-year-old chocolatier aims to be the face of American chocolate in his hometown.
"I've been sort of under the radar" in L.A., says Grahm, who is puckish and inclined to wear button-down shirts with colorful bow ties. He has been Compartés' chocolate maker since he was 21. Four years ago, he bought the business from his family when they were about to give up on it and has since rebranded and expanded.