Amy Ephron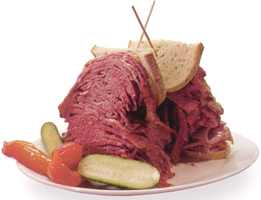 My family likes sandwiches. My present husband had his bachelor party at Langer's. The day before our wedding, while I was at a ladies' lunch thrown by my sisters, my husband, his son, my son, his daughter's boyfriend, my brother-in-law, and one of my nephews went to Langer's Deli (across the street from MacArthur Park) and ordered pastrami sandwiches, lots of them, I understand, more than one apiece. And it was further evidence to me that I was marrying the right person.
In our family, we think of sandwiches as comfort food. The slightest thing, a bad grade, a lost soccer game, a minor heartbreak can prompt any one of us to say, "How do you feel about a sandwich?" – which is code for: Let's all jump in the car and go to the fish market in Malibu, Bay Cities in Santa Monica, Bryan's Pit Barbecue in the Farmers' Market..." or any number of other places where they have a great sandwich.
Dear Nancy Pelosi and Harry Reid,

You've been writing to me for months (years), now I'm writing to you....
Why are we bailing out the auto industry?

We have enough cars sitting in new car lots and used car lots across the country that nobody can buy. Why do we really need to waste all that steel, rubber, leather, emit greenhouse gases for a product nobody needs. What we need to do is figure out how to convert those cars to energy-efficient cars. We can change a heart, how come we don't know how to change an engine?

Yes, I know, that 600,000 jobs hang in the balance but wait, I have a solution. Why don't we convert all those plants to alternative energy sector plants, windmills, solar panels, solar batteries, bio-diesel, lithium batteries...put the UAW workers first in line for those jobs and turn that sector into a Union Shop. It's a win-win all around.

I had a dream last night that I was living in a youth hostel in London or someplace like London (I have never lived in a youth hostel, not even for a night) and that the communal shower had a cement floor that was a little funky (ditto, the communal shower part) and then somehow, and I'm not sure how this transition was made, I was delivering turkey to the strike line at Fox.

This part I understand. Not that a picket line is supposed to be a dinner party but when someone is asked to walk around in circles (literally circles, it's not even like exercise, it's like something else), hunger and thirst kick-in, bringing your own bottle of water (byow) and a cap is recommended.

The first day I picketed I was late...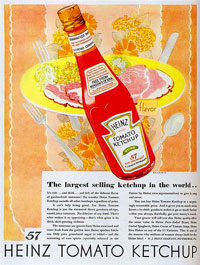 Repeat after me: Cindy Hensley McCain. Say it again: Cindy Hensley McCain. I don't know why but it sounds like Theresa Heinz Kerry to me.
I like Theresa Heinz Kerry. And I really like Heinz ketchup and I always wanted to write a piece about the 57 varieties of Heinz. Remember when that used to be their slogan. I always wondered what they were. Relish? Pickles? Baked Beans? I wanted to have a barbecue and test them all. Were there really 57 or were there really more (or less) and they'd just gotten used to saying there were 57.
But I digress because the point is Theresa Heinz Kerry didn't want to release her tax returns. She filed separately from her husband John Kerry. And at the time that he was running for President, she resisted making her tax returns public. For a really long time. In fact, she released her tax returns on October 16, 2004, less than three weeks before the election. And we all know what happened to him.
Repeat after me, Cindy Hensley McCain does not want to release her tax returns either. Her father James Hensley had a big bottling corp, the Hensley Corp that exclusively distributed Anheuser Busch, Budweiser, Michelob, many varieties of ale, and by all accounts left a small fortune. And Cindy Hensley McCain has always filed separately from her husband John McCain and she doesn't feel that she needs to release them, now.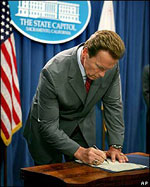 Without a qualm, or a thought to the people's lives he was affecting, Governor Schwarzenegger signed an order yesterday to reduce government employees salaries to the minimum wage of $6.55 an hour, (which could affect 200,000 people) because of the budget stalemate. Luckily, State Controller John Chiang, who writes the checks, is refusing to comply with the payroll cuts. (I think Chiang and Nancy Pelosi should get Government Employee of the Month award!)
But am I the only person who remembers this Arnold Schwarzenegger campaign mantra, "I understand business. I will make the economy and budget of California work."
Then, why doesn't he institute tax credits for the movie business and bring business back to California? The movie business, that funny business that was so lucrative and employed so many people. And that is supposed to be a business he does understand.