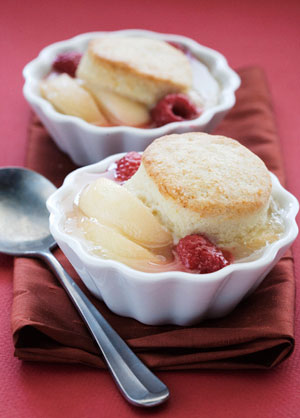 With the peaches, nectarines, plums and apricots trickling into the market it's hard to resist the temptation to eat them everyday–at least for me it is. It's as if I enter this stone fruit frenzy, forsaking my usual selection of fruits and vegetables in order indulge on insanely delicious peaches 4 or 5 times a day. Can you blame me? What is more pleasurable than a hefty peach enjoyed over the kitchen sink, juicy syrup running down your arms? Nothing I tell you!
(That actually reminds me of a friend I know who takes her peaches and mangos into the shower with her. Kind of clever I think, if not a bit strange. But like I have room to call anyone strange.)
I have a soft spot for all sorts of peach cobblers, pies, crumbles, krumps and slumps. Something about crust, dumpling or biscuit dough and peaches mixed together makes me weak in the knees. Oh, and I'm kidding about the krump thrown in there to see if you were paying attention. But really, you oughtta see me throw down with a clown suit and some hip hop. Call Mr. LaChapelle now.
The following recipe is from Lori Longbotham. I love it because of its biscuit top, which of course could be cut to cover the fruit but when made smaller lets some of the warm juicy peaches and berries peek through. I wouldn't even dream of serving this without some vanilla ice cream or pouring cream all over it.
Peach and Raspberry Cobbler
Filling:
10 small firm-ripe peaches
1/2 cup water
1/2 cup sugar
4 teaspoons cornstarch
1 tablespoon fresh lemon juice
1/2 pint ripe raspberries
Biscuits:
1 3/4 cups all-purpose flour
3 tablespoons sugar, plus additional for sprinkling
1 tablespoon baking powder
1/4 teaspoon salt
1/4 cup (1/2 stick) cold butter
1 cup heavy cream, plus additional cream or milk for brushing biscuits
Cook peaches in a large pot of boiling water for 1 minute. Peel, pit, and slice peaches. (You should have about 6 cups.)
Preheat oven to 450°F. Have ready a 1 1/2-quart shallow baking dish.
To make the filling: Combine peaches, water, sugar, cornstarch, and lemon juice in a Dutch oven over medium-high heat and bring just to a boil, stirring constantly. Reduce heat and simmer for 5 minutes, or just until peaches are beginning to soften. Transfer mixture to baking dish and stir in raspberries.
To make the biscuits: Whisk together flour, sugar, baking powder, and salt in a medium bowl. Cut in butter. Beat cream with an electric mixer on medium-high speed in a large deep bowl just until it holds soft peaks when beaters are lifted. Make a well in center of dry ingredients, spoon in cream, and stir with a fork just until a dough begins to form.
On a lightly floured surface, knead dough several times. Pat dough out to 3/4 inch thick and, with a 2 1/2-inch cutter, cut out 6 rounds. Gather scraps together and pat out again, if necessary. Arrange on top of peaches, brush with cream, and sprinkle with sugar.
Bake until peaches are bubbling and biscuits are browned, 15 to 17 minutes. Let cobbler cool slightly, and serve warm.
Matt Armendariz is a writer and photographer who lives in Los Angeles and chronicles his passion for food and travel on his blog MattBites.com. He has a new cookbook calledOn a Stick!