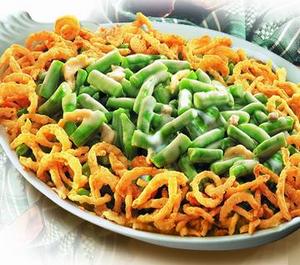 Sometimes I wonder if I'm truly an American. I mean, I have never eaten a peanut butter and jelly sandwich on white bread, I have never eaten at Taco Bell, and despite its nearly iconic status in American cuisine, I cannot abide green bean casserole. You know the one – green beans with cream of mushroom soup, topped with crispy fried onions.
Growing up, I never knew what a casserole was; my mom (and grandmother) never made them. After hearing about green bean casserole from friends at school, I felt like I was missing out – I told my mom, "It has fried onions on top! It's like green beans with Funyuns!" The next day she bought the ingredients for green bean casserole; I couldn't have been happier.
Unfortunately, she made the green bean casserole in front of my grandmother, Nan. I still remember her look of shock when my mom opened the can of fried onions. "Onions in a can? Who ever heard of such a thing? And who puts soup on string beans?" she said, "Bah, that's American food." I reminded her, "Nan, we are American." "Yeah," she replied, "but we cook Italian."
Despite Nan's protests, I got my green bean casserole. I was giddy with anticipation. Unfortunately, with the first bite, my giddiness ended. Green bean casserole was nothing more than mushy green beans topped with salty soup and greasy onions.
I declared, "I don't like it." Though she didn't say a word, I could see the smile of satisfaction on Nan's face.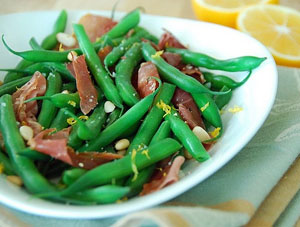 If Nan could still make green beans, this would be her style: Prosciutto, Pine Nuts, and Meyer Lemon. I made this side dish last Thanksgiving, and it was such a hit that there were no left-overs. It's no wonder. The combination of salty prosciutto, earthy pine nuts, and tangy Meyer lemons enlivens the string beans.
Although you could add the prosciutto raw to the string beans, cooking it for 30-60 seconds renders it irresistibly crisp and savory, like bacon, but much better. It's an easy way to dress up otherwise humble string beans and will surely please your guests. I'd keep the string beans al dente; they'll remain brilliantly colorful and will have that satisfying snap when you bite into them.
I'm not even gonna get into what Nan thought about sweet potatoes and marshmallows.

Green Beans with Prosciutto, Pine Nuts, and Meyer Lemon
Serves 4
1 pound string beans, trimmed
1 tablespoon pine nuts
1 teaspoon olive oil
2 ounces prosciutto, cut into thin strips*
the zest of ½ Meyer lemon (about 2 teaspoons)**
the juice of ½ Meyer lemon (1 ½-2 teaspoons)
coarse sea salt, to taste
7-8 cranks freshly ground black pepper
extra virgin olive oil, for drizzling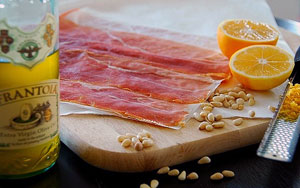 In a deep pot, boil the string beans for 2 minutes. Drain and plunge into a bowl of ice water to stop cooking and maintain their color. After about 2 minutes, drain and pat dry.

Place pine nuts in a small, dry skillet over medium heat. Shake pan in a back-and-forth motion until pine nuts are golden and aromatic, about 1-2 minutes. Set aside.

In a large skillet, warm 1 teaspoon olive oil. Add prosciutto strips; cook for 30-60 seconds, or until just crisp. Add the string beans to the skillet and stir well. Add the lemon zest, lemon juice, and salt and pepper; stir and heat through, 1-2 minutes. Sprinkle with toasted pine nuts and additional lemon zest, and drizzle with a little extra virgin olive oil. Serve immediately.

*You can substitute pancetta or bacon for the prosciutto, if you prefer.
**Meyer lemons, which are available at Whole Foods and Trader Joe's, are sweeter and less acidic than regular lemons, but either works well.
Susan Russo is a free lance food writer in San Diego, California. She publishes stories, recipes, and photos on her cooking blog, <Food Blogga and is a regular contributor to NPR's <Kitchen Window. She is also the author of two upcoming books that will be published in the fall of 2010.