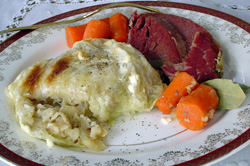 Several years ago a friend of mine invited me over for her corned beef dinner on St. Patrick's Day. I have to say that boiled meat just never appealed to me. But, a St. Patrick's Day celebration with friends did sound good.

After reading my newspaper column about Potato-Stuffed Cabbage Rolls, some have been asking about the baked corned beef that I mentioned. I was so surprised that evening when my friend pulled her Irish-American version of a corned beef dinner from the oven. It was the first time I'd ever had corned beef prepared in this untraditional way. That experience launched my once-a-year preparation of corned beef in my own kitchen.

According to historical records, corned beef and cabbage got its start in Ireland in the 17th century. The word "corns," which means "grains," dates to Anglo-Saxon times. During this period when refrigeration wasn't available, beef was dry-cured to extend its shelf life. The process involved rubbing coarse "corns" of salt into the beef to aid in preservation.
Today, corned beef is cured or brined in a mixture of salt, water, T.C.M. (Tinted Cure Mix), sweetener and seasonings. Bay leaf and peppercorns are the most common spices used to season the beef. Depending on the supplier, some beef briskets come packaged with a separate flavor packet. For this recipe, I rinse the meat under cool running water before placing it in the roaster. I don't use the packet of seasonings that is sometimes packaged with the meat. I like to use minced garlic, bay leaves and black pepper for flavor.

A little bit of water is added to the roaster to ensure a moist, fork-tender meal of meat and vegetables. When I serve this corned beef with the potato-filled cabbage rolls, I leave the potatoes out of the roaster but still add wedges of cabbage for flavor.
While the meal is simmering in the oven, you'll have time to dance some Irish jigs around the kitchen as you sip green beer with friends. The luck of the Irish will be yours as you share this classic St. Patrick's Day meal with good friends and dear family.
Corned Beef Dinner
1 corned beef brisket, about 3 1/2 pounds
4 cups water
1 bay leaf
2 garlic cloves, minced
1 large onion
1 small head cabbage, about 1 1/2 pounds
4 medium carrots
3 medium, unpeeled red potatoes, about 1 pound
1/8 teaspoon ground black pepper
Preheat oven to 425°F. Rinse brisket with cold running water. Trim off excess fat. Pour water into a heavy roasting pan. Place brisket and bay leaf in water. Spread minced garlic over meat.
Cut onion into thick wedges. Cut cabbage into quarters. Cut carrots into 2-inch lengths. Cut potato lengthwise into quarters. Arrange onion and cabbage around brisket. Top cabbage with carrots and potatoes. Sprinkle brisket and vegetables with black pepper. Cover the roaster with lid or heavy-duty aluminum foil. Bake for 1 1/2 hours or until brisket is fork-tender.
Carefully remove roaster from oven. Transfer meat to cutting surface.
Slice brisket diagonally across the grain into thin slices. Arrange on platter surrounded by vegetables.
Makes 4 servings.
Sue Doeden is a popular cooking instructor, food writer and integrative nutrition health coach. She is the host of Good Food, Good Life 365 on Lakeland Public Television. Her own hives full of hardworking bees and her love of honey led to the creation of her recently published cookbook, Homemade with Honey.