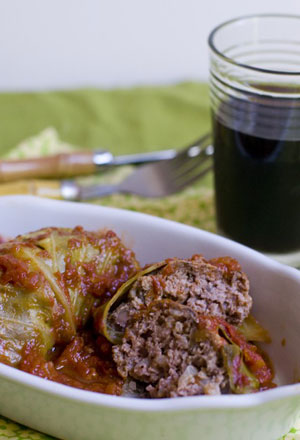 Growing up my mom used to make stuffed cabbage, what felt like, all the time. I wasnt' really into it nor did I ever acquire a taste for it. Then I grew up and ate it somewhere (not my moms) and pretty much fell in love with it.
A few weeks ago, I spent a guilt free Sunday morning in bed, I sat there with remote in hand, watching a bunch of shows that had been recorded, yet never watched.
I had numerous Aarti Party's, Barefood Contessa, Nigella Feasts, a few Challenges, and a host of others- non-food related. It was glorious. I ultimately left the bedroom, with list in hand and started printing out all the recipes that I wanted to tackle.
One in particular was Ina's Stuffed Cabbage. What better week to make this than for St. Patrick's Day? I made a simple salad and a Bakewell Tart. The cabbage is a great weeknight meal. Reading the recipe, it felt as thought it would have taken all day long. Not so.
While the sauce was simmering, I steamed the cabbage leaves and prepped the meat filling. I swapped out some ingredients to make it my own and made enough to invite my mom for dinner. There were still leftovers. M brown bagged it and didn't complain. I ate this dish and felt satisfied without feeling full.
Stuffed Cabbage
Adapted from Ina Garten

Yield: 6 servings
Ingredients:
for the sauce:
3 tablespoons coconut oil
1 1/2 cups chopped yellow onion
2 (28 oz) cans crusted tomatoes
1/4 cup red wine vinegar
1/2 cup sucanat or light brown sugar
1 1/2 teaspoons kosher salt
3/4 teaspoon fresh ground pepper
for the filling:
2 1/2 lbs. organic, ground beef chuck
3 extra-large eggs, lightly beaten
1/2 cup chopped yellow onion
1/2 cup bread crumbs, preferably homemade
1/2 cup uncooked brown rice
1 teaspoon kosher salt
1/2 teaspoon ground black pepper
1 green cabbage
Instructions:
for the sauce
Heat the coconut oil in a heavy duty saucepan. Add onions and cook over medium heat until translucent. Add the rest of the ingredients and bring to a boil. Once boiled, turn the heat down to simmer and cook for 30 minutes, uncovered. When done, set aside

for the filling:
Heat a large pot of water to boil. Preheat oven to 350°F.
Cut out the core from the cabbage. When water boils, place whole cabbage in the pot for a few minutes. Remove the leaves, one by one with tongs. Rest leaves on a baking sheet lined with paper towels. Set aside.
In a large bowl, add all the ingredients for the filling (not the cabbage leaves). Add 1 cup of the sauce to the filling mixture.
With a pairing knife, remove the triangular part of the cabbage leaf, going 1/3 the way up the leave. Using 1/3 cup of filling, place it on each leaf, closest to the top of the leaf. fold the top part over the filling, tucking the sides in as you roll.
Put about a cup of sauce on the bottom of a dutch oven. Place cabbage rolls, seem side down, over the sauce. when all is done, cover rolls with the remaining sauce. Cover the dish and bake for 1 hour.
Serve hot.
Susan Salzman writes The Urban Baker blog to explore her dedication to good food in the hope of adding beauty to the lives of her family and friends.