I've tried several versions of Irish soda bread, but this one from Cooks Illustrated is a favorite. For a more traditional soda bread, reduce the sugar by half and omit the raisins.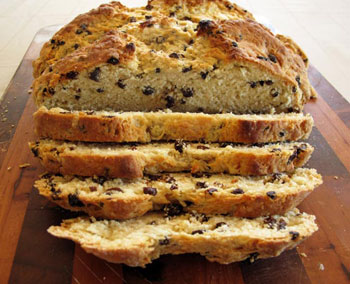 3 cups bleached all-purpose flour, plus more for work surface
1 cup cake flour
1/4 cup granulated sugar
1 1/2 teaspoons baking soda
1 1/2 teaspoons cream of tartar
1 1/2 teaspoons table salt
4 tablespoons softened unsalted butter
1 1/4 cups buttermilk
1 egg, lightly beaten
1 cup raisins, golden raisins, or currants (or combo of dark and golden raisins)
Adjust oven rack to upper-middle position and heat oven to 400°F. Whisk flours, sugar, baking soda, cream of tartar, and salt in large bowl. Work softened butter into dry ingredients with fork or fingertips until texture resembles coarse crumbs.
Add buttermilk, egg, raisins, and stir with a fork just until dough begins to come together. Turn out onto flour-coated work surface; knead until dough just becomes cohesive and bumpy, 12 to 14 turns. (Do not knead until dough is smooth, or bread will be tough.)
Pat dough into a round about 6 inches in diameter and 2 inches high; place on greased or parchment-lined baking sheet or in a cast-iron skillet. Cut a cross shape into the top.
Bake until golden brown and a skewer inserted into center of loaf comes out clean or internal temperature reaches 170 degrees, 40 to 45 minutes, covering bread with aluminum foil if it is browning too much. Remove from oven and brush with some melted butter; cool to room temperature, 30 to 40 minutes.
– Recipe courtesy of Cook Like James