Who does not need a Bailey's Irish Cream Cake for tomorrow? Trust me you do. If you are out of Baileys, run out and get some, it will be on sale this week. Is this cake good? OMG. Yes.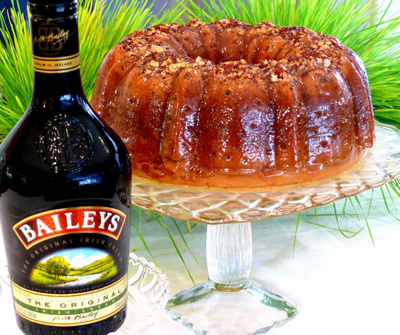 Bailey's Irish Cream Cake
Adapted from Recipe Girl via Big Sis Lil Sis
Cake:
1 cup chopped pecans
1 package yellow cake mix
1 (3.4 ounce) package instant vanilla pudding mix
4 large eggs
1/4 cup water
1/2 cup vegetable oil
3/4 cup Irish Cream liqueur
Glaze:
1/2 cup butter
1/4 cup water
1 cup granulated sugar
1/4 cup Irish Cream liqueur
Start by greasing and flouring a 10-inch bundt pan. Sprinkle pecans over the bottom.
In a large bowl, with a mixer, combine yellow cake mix, vanilla instant pudding mix, eggs, water, oil and Irish Cream liqueur. Pour batter over nuts in pan. Bake for 60 minutes in a 325 degree oven or until toothpick inserted in center of cake comes out clean.
Cool for 10 minutes in the pan. Flip the cake out of the pan and cool completely on a wire rack.
While the cake is cooling, make the glaze. Combine butter, water and sugar in a small saucepan. Bring to a boil and continue boiling for 5 minutes, stirring constantly. Remove from heat and add Irish Cream liqueur.
Prick top and sides of cooled cake with a skewer. Spoon glaze over top and brush onto sides of cake. Allow the cake to absorb the glaze and repeat until most of the glaze is used. Save some glaze to pour over sliced pieces. You'll be glad you did.
– Recipe courtesy of Noble Pig