Alright, even though we have been working so hard on what the heck we are going to make for Easter, I almost forgot about St. Patrick's Day. Gasp! I mean I never miss a chance to celebrate those dang rainbows, pots of gold and little green people. So instead of pulling out the Lucky Charms once again, as your go to St. Patrick's Day feast...why not make this? And don't even say, "I don't like corned beef, wah, wah wah'. It's tradition people, it's all about tradition. AND THIS will take tradition to another level, I promise.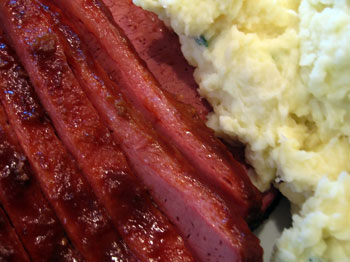 Whiskey-Glazed Corned Beef
Adapted from Cuisine at Home
Submerge in Water; Simmer
1 corned beef brisket (3.5-4 lbs)

Whisk Together
1/2 cup ketchup
1/2 cup whiskey (such as Jack Daniel's)
1/2 cup apple cider vinegar
4 Tablespoons brown sugar
4 Tablespoons soy sauce
2 teaspoons dry mustard
1 teaspoon ground ginger
1/2 teaspoon red pepper flakes
Submerge corned beef, fat side up, in water, in a large pot. Cover and simmer over low heat until beef is tender when pierced with a fork, 3 hours. (If chilling overnight, keep the meat in the liquid. Bring it to a simmer the next day, then continue with the recipe).
Preheat oven to 450 degrees; line a baking sheet with foil, top with a rack, and coat with nonstick spray. Transfer the cooked beef to the prepared rack, fat side up. Use a knife to trim off the fat-it will be soft and easy to remove.
Whisk remaining ingredients together in a saucepan and bring to a boil over high heat until thickened, 4-6 minutes. Spoon glaze onto beef, reserving leftover sauce; roast for 10 minutes, or until the glaze is dark and sticky. Remove from the oven, cover, and let rest for minutes.
Transfer to a cutting board, then thinly slice against the grain.
Cathy owns a vineyard and winery in the Willamette Valley of Oregon. She is a food writer for Davis Life Magazine and blogs daily about wine, food and everyday living. She lives with her husband and two sons. You can visit her at noblepig.com.