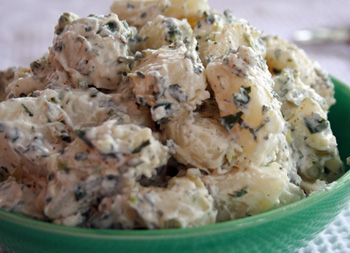 Root vegetable. Corned beef. Sauerkraut. Rye. Gedney dills. It all adds up to something Irish. And a little bit Minnesotan.
When I got together with friends for a potluck meal last week, the theme was Something Irish, Something Green.
I had just gotten the Lee Brother's newest cookbook, "Simple Fresh Southern," and found their recipe for Green Godess Potato Salad. Seasoned just right with fresh parsley and tarragon, a splash of champagne vinegar and some lime juice, the light mayo and sour cream-based dressing is just what the potato doctor ordered. And perfect for a "Green" potluck.
Green Goddess Potato Salad is the right match for a reuben sandwich on St. Patrick's Day. It will be just what we want when it's time to make a picnic lunch to take to the park or out on the boat. It's easy to make and only gets better with age. Click here to go right to a copy of the Lee Bros Green Goddess Potato Salad.
I made the Green Goddess Potato Salad for the potluck. It was enjoyed by all. With just a tiny bit of the potatoes remaining after eveyone had a chance to eat, I brought them home and discovered it is the perfect salad to eat with Reuben's.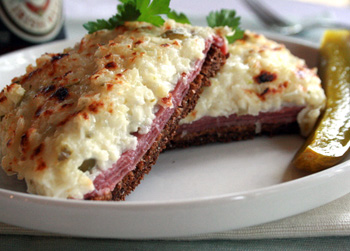 And speaking of Reuben's, my husband says these Puffs are the only way to eat a Reuben. It's an open-face sandwich. A slice of toasted rye is the foundation for mustard, a layer of thinly sliced corned beef and a cheese mixture that includes chopped sauerkraut and Swiss cheese. And, some Minnesota flair with chopped Gedney Norwegian Dills. You know Gedney — it's the Minnesota pickle! A few mintues under the broiler, and the cheesey topping gets melted, bubbly and brown.
Put it all together and you've got a Minnesota-style St. Patrick's Day meal.
Minnesota-style Reuben Puffs
2 cups sauerkraut
8 ounces Swiss cheese, cut into large cubes
1 medium onion, cut into large pieces
3/4 cup mayonnaise
3 tablespoons Dijon mustard
3 dill pickles, chopped coarsely (I used Gedney Norwegian Dills)
1/2 teaspoon freshly ground black pepper
8 slices rye bread, toasted
1 pound thinly sliced corned beef
Rinse and drain sauerkraut. Press between layers of paper towels to remove excess moisture. Set aside.
Process cheese and onion in a food processor until it is finely chopped. Add chopped pickle, mayonnaise and 1 tablespoon mustard and pepper. Process to blend. Add sauerkraut and pulse 2 or 3 times.
Spread remaining 2 tablespoons mustard evenly on 1 side of toasted bread slices. Top with corned beef. Spread with cheese mixture.
Place on a baking sheet. Broil 8 inches from heat, leaving door of oven partially open. for 6 to 8 minutes. They should be puffed and lightly browned. Serve immediately.
Tips from the cook:
Sauerkraut mixture can be prepared early in the day, or even the day before, and stored tightly covered in the refrigerator.
To make appetizer-sized Reuben Puffs, use the small cocktail rye bread. It is often found in the deli section of the supermarket.
Sue Doeden is a popular cooking instructor, food writer and integrative nutrition health coach. She is the host of Good Food, Good Life 365 on Lakeland Public Television. Her own hives full of hardworking bees and her love of honey led to the creation of her recently published cookbook, Homemade with Honey.