Irish Cream and Coffee Chocolate Truffles
by Susan Salzman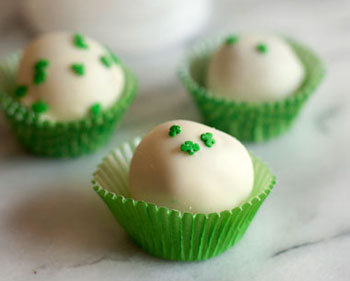 I couldn't let St. Patrick's Day come and go without making something to celebrate this "green" holiday.
This year I wanted to gift the teachers with a little sweet treat. With an unopened bottle of Bailey's Irish Cream that we received at the holidays, chocolate truffles were calling my name.
Truffles are a wonderful gift because you can make a big batch in very little time. Using premium ingredients, a ganache is whipped up in minutes and then rests on the counter to cool. While this batch of ganache rested, I went for a 3 mile walk. Came home, put it in the fridge for 45 minutes while I straightened up my house.
The end results are impressive. Wrapped in pretty boxes and gifted to those that deserve them wins bonus points for weeks to come. Although he doesn't know it, I hid a few in the back of the pantry for Levi. He is doing such a great job with the transition into a gluten free diet, that a little sweet treat is my way of showing him how proud I am of him.
Irish Cream + Coffee Chocolate Truffles
yield: 48 balls of fabulousness
Ingredients:
10 ounces cups organic, heavy cream
1 vanilla bean, split, seeds removed
16 ounces bittersweet chocolate, finely chopped
1/2 teaspoon espresso powder
1/8 teaspoon Celtic Sea Salt
4 ounces Baileys Irish Cream
9 ounces white chocolate, finely chopped
Instructions:
Place the chopped bittersweet chocolate in a large glass bowl. Place a mesh strainer over the chocolate.
In a small saucepan, combine the heavy cream, vanilla seeds, and the pod. Bring to a boil. remove the saucepan from the stove and pour the warm cream through the strainer and over the chocolate.
Let stand for 1 minute. Add espresso powder and salt. using a heat proof spatula, mix until all the chocolate has melted. Let cool to room temperature (about 1 1/2 hours).
Add Baileys and mix to combine. Place a piece of plastic wrap over mixture (Press the plastic wrap directly onto the chocolate) and refrigerate for 1 hour.
Using a 1 tablespoon ice cream scooper, form balls, roll in the palm of your hands, and place on a baking sheet lined with a silpat mat. When all have been rolled, place in the fridge for at least an hour.
Temper your white chocolate (you can find great instructions here). I have this tempering machine, which my kids think is a toy (lucky me). When the chocolate is ready, dip your cold truffles into the white chocolate, let the extra chocolate drip away and place on the silpat mat. Decorate or not!
Store in an airtight container for up to two weeks.
Susan Salzman writes The Urban Baker blog to explore her dedication to good food in the hope of adding beauty to the lives of her family and friends.
San Francisco


by

Melanie Chartoff





It's so darn good to get awaaaay. I'm bored with the predictable patterns of my home life: my constant computer, my cooking, my own backyard. My brain craves novelty, my tongue new tastes, my...

Read more...

Italy


by

Michael Tucker





Jill was done. For three weeks I'd been force feeding her on a take-no-prisoners march through the restaurants of Italy. I had all but nailed her feet to the floor. And then four days in Rome...

Read more...

Los Angeles


by

David Latt





To great acclaim, José Andrés recently opened four restaurants (Rojo, Blanco, Saam, & Patisserie) and a bar (Bar Centro) on the ground floor of the SLS Hotel (465 S. La Cienega, Los Angeles, CA 90048;...

Read more...

New York


by

Michael Tucker





I had an experience the other night that was right out of Larry David's universe or Seinfeld's. A classic. I'll try to describe it for you.

It was around 9:45 and I was at Danji, the wonderful...

Read more...