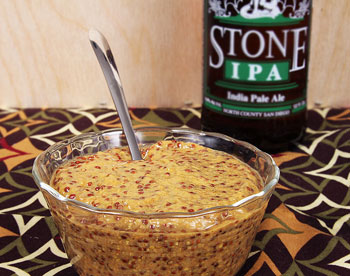 Three years ago, Stone Brewing wrote a post on their company blog titled "MustardGate 2010" in which they announced that the Stone Brewing mustard they've been shipping to their customers was missing an important ingredient - their beer. As it turned out, the company they hired to make the mustard for them never used the beer Stone sent them to make the product. The kegs Stone sent them came back empty, so there was no clue where the beer actually went.
I admired Stone for being this forthcoming, and for going out of their way to make things right with their customers and their fans by offering refunds, discounts, whatever it took to make things right. But in the end, it gave me the inspiration to make that mustard myself. I'd made mustard before, and beer makes everything better. So I made it, and it was delicious, especially when slathered on Bratwurst or (in this case) smothered on beer-braised corn beef & cabbage.
While we're on that subject . . .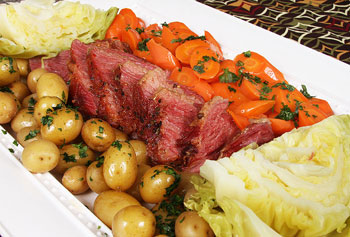 If you've ever cooked a brisket, you know what a tough cut of meat it is. For any tough cut, like shank or shoulder, the words "low and slow" come to mind. Low heat for long periods of time will turn any firm roast into the most delicate, flavorful thing you've ever tasted.
Read the cooking instructions on the package of that corned beef brisket you purchased. It will likely tell you to cover the brisket with water and boil it until it's fork tender.
Wonderful. Beef that's had all of its flavor boiled out of it - sounds delicious!
Since I find boiling meat disgraceful, I prefer braising. By braising this dish, you're basically putting this roast in a hot sauna for a couple of hours. Using beer in this recipe, the malty sweetness of English or Irish ales work their magic while that corned beef brisket transforms into a St. Patrick's Day classic that you'll want to make again tomorrow.
I don't know about you, but if I were given the option of being boiled for 2 hours or gently steamed for 4, I'm taking the schvitz.
Beer-braised corned beef with cabbage, carrots, and potatoes
1 two to three pound corned beef brisket
2 garlic cloves
2 medium shallots, peeled and halved
2 tablespoons pickling spices (or use the spices that come in the sachet w/the corned beef brisket)
3 12-oz bottles of ESB, Irish or scotch ale (Fullers ESB, Moylan's Kilt Lifter Scotch Ale, Smithwick's are examples, or use whatever beer you like. Just don't use a weak light lager in this recipe. That's a party foul.)
6 carrots peeled and cut into 1-2 inch pieces
6 yukon gold or red potatoes cut into 2 inch chunks (I like using small boiler potatoes)
1 medium head of cabbage, cored and cut into 4 separate wedges
Preheat the oven to 300 degrees F.
To begin, one of those beers is for you. So crack it open and start drinking. You can't make this dish without sipping a beer. Skip this first step and you may as well forget about it and order a pizza.
Put the corned beef into a large roasting pan or oven-proof dutch oven with a lid. Add the garlic, shallots, pickling spice, and two beers. Cover and place in the oven. Braise this for 2 1/2 hours, turning the meat over half-way through. At the end of 2 1/2 hours, remove the pot from the oven and add the carrots and potatoes. Cover again and place back in the oven for an additional 1 1/2 hours. Remove from the oven once again, this time adding the 4 wedges of cabbage. Put it back in the oven for another 45 minutes.
After 45 minutes have passed, remove the pot from the oven and check the brisket for doneness. You should be able to stick a fork in and out of the roast easily. If it needs more time, give it another 30 minutes in the oven. Remove the roast from the pot, place on a cutting board, cover with foil and allow to rest for 15 minutes.
15 minutes? That's enough time to drink another beer. Don't mind if I do. And while I'm doing that, I like to make a sauce from the remaining beer in the pot. To do this, strain the beer into a separate sauce pan, bring it to a boil over medium heat, add a tablespoon of butter, salt and pepper, and stir. When it starts to foam, take it off the heat.
Carve the roast, place on a large serving platter, surround the sliced brisket with potatoes, carrots, and cabbage. Cover the vegetables with the beer reduction and garnish with parsley.
Crack open another beer. Eat. Life is good.
NOTE: This is best done in the oven, but if you're pressed for time, it can be braised on the stove top on low heat in as little as 2 1/2 hours. Add the potatoes and carrots after 90 minutes, the cabbage 30 minutes after that, then pull it from the heat when 2 1/2 hours have elapsed.
IPA Mustard
1 12-ounce bottle of IPA (Stone IPA, Dogfish Head 90 Minute IPA, or Green Flash IPA are my favorites)
2 cups whole mustard seeds
1 cup sherry vinegar (or cider vinegar if you can't find sherry)
1 teaspoon salt
1/4 teaspoon pepper
Mix the beer and the mustard seeds in a small bowl and soak them for at least 8 hours, preferably overnight.
Add the vinegar, salt and pepper to the beer/mustard seed mixture. Pour half of the mix into a food processor or blender and puree until smooth. Mix the pureed mixture with the remaining seed/beer mixture and pour into a jar or container. Taste it, adding more salt if necessary.
Keep refrigerated until ready to use.
Phil Nigash shares his passion for food and cooking via podcast on his blog My Life as a Foodie.