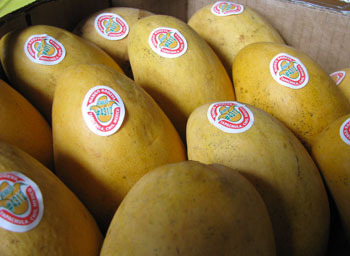 A week without a trip to the farmers' market is like a week without the sun: it makes me grumpy. I can't remember the last time I bought produce in a regular grocery store. Sure, I go to the supermarket for eggs, milk, and cereal, but fruits and vegetables come from the farmers. So, what I did other day, shocked me. I tell myself it a was just a transgression.
I was at Costco stocking up on bottled water, protein powder, and toilet paper (why two people need 36 rolls of Northern toilet tissue, I'll never know). On my way to the protein powder, I passed pineapples, tall, fragrant, ripe pineapples each topped with a crown fit for a king. They had no brown spots, no fuzzy fur on the bottoms—they were perfect. Better yet, they were only $2.99 each. I couldn't believe it! I put two in my carriage and buried them under the toilet paper.
Not 20 feet later on my way to the water, I passed a mountain of mangoes, whose green and yellow skins were taut and unblemished. Having just paid $1.75 each for some (which weren't even good), I stopped to check the price -- $8 for a whole case! I debated whether or not to buy them. What would we do with a whole case of mangoes? Would they be sweet? What if they all ripened at the same time?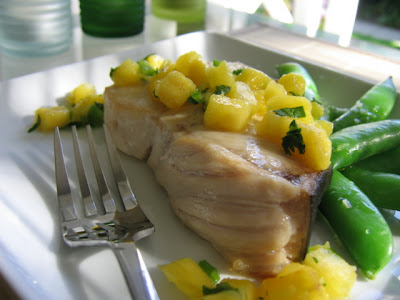 Then I heard my father's voice in my head saying, "Buy them! They won't go to waste." "But Dad, it's only the two of us." "Just buy them!" the voice echoed.
After scanning left and right, I picked up a case and placed it in the carriage. What did I think? That the Farm Bureau was watching me on the surveillance camera? Feeling guilty, I wondered if the toilet paper could cover these too.
When Jeff came home from work that night, he saw the behemoth bowl of mangoes and pineapples on the counter and asked, "Costco?" "Costco," I replied.
That night we enjoyed a pineapple-mango salsa on swordfish for Jeff and tofu for me. Fruit salsas are a staple in our house because they're light, healthy, and versatile. This salsa is sweet, spicy, and tangy and tastes even better when allowed to rest at room temperature before serving.
Swordfish with Pineapple-Mango Salsa
1 cup fresh pineapple, diced
¾ cup mango, diced
1 small red or green chile, finely diced
3 Tbsp green onions, finely sliced
Juice of ½ lime
1 Tbsp fresh mint, finely chopped
1 Tbsp fresh cilantro, finely chopped
Salt, to taste
2 (4-oz) swordfish steaks or mahi-mahi
1 tsp olive oil
Salt and pepper
For the salsa, simply place all ingredients in a bowl; allow to rest for at least 45 min- 1 hr. so the flavors will mingle.
Preheat the broiler. Drizzle the olive oil on both sides of the swordfish, and season with salt and pepper. Broil for 4-5 minutes, flip over steaks, and broil another 4-5 minutes, or until opaque. Alternatively, you can grill the swordfish or pan fry on the stovetop. Makes 2 servings.
Serving suggestion: steamed sugar snap peas lightly seasoned with extra virgin olive oil, fresh mint, & salt and pepper are a lovely side vegetable.
If you're unfamiliar with selecting and cutting a mango, then check out Rachel's tutorial at Coconut and Lime.
Susan Russo is a free lance food writer in San Diego, California. She publishes stories, recipes, and photos on her cooking blog, <Food Blogga and is a regular contributor to NPR's <Kitchen Window. She is also the author of Recipes Every Man Should Know
and The Encyclopedia of Sandwiches
.