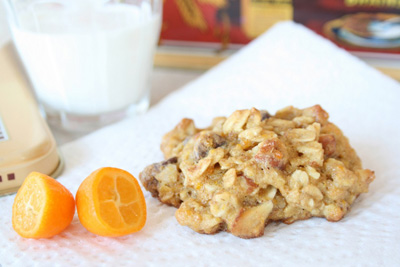 How can anyone resist tart and tiny kumquats, sitting so cute and bright in the produce department at the grocery store? They just look happy. I buy them every year as soon as they make their first seasonal appearance. I never have a plan for them when I set them in my basket, but it doesn't matter. I buy the organic kumquats, rinse them well and, after I've cut the stem ends off, I pop them into my mouth one after the other, as if they were orange jelly beans.
Yes, these little cuties are totally edible, although they do have seeds hiding inside that seem large for such a tiny fruit. To remove seeds, slice kumquats in half and squeeze them gently and the seeds will pop out.
The skin is tender and sweet, while the flesh can be dry and very tart, compared with oranges. Kumquats that are soft will be less juicy, but they are perfectly acceptable for most uses. Store them in a plastic bag in the fruit drawer of the refrigerator for up to three weeks. One kumquat has about 12 calories and is a good source of vitamin C.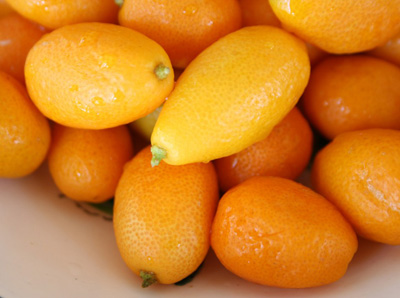 This member of the citrus family is quite versatile. I've used their juice and minced skin in dressing for cabbage slaw, minced them up and stirred them into shrimp curry and stirred them into a coffee cake. This time, I've pureed kumquats and added them to chunky, chewy cookies.
The most time-consuming part of this recipe is getting the little kumquats ready to puree. I removed the seeds first. It's easiest to cut them in half lengthwise. Give each half a little squeeze and the seeds will pop right out.
A ripe banana added to the cookie dough adds breakfast-like flavor as it pairs with old-fashioned oats and chunks of toasted raw almonds. In fact, my husband has been making a few of these cookies his breakfast this week.
I've packed a tin of them to snack on in the car as I drive to Worthington today. It's a long drive. Did I mention these cookies also hold plenty of semisweet morsels of chocolate? That makes these cookies a good substitution for the bag of M&M's I would normally have in my travel snack pack. Everyday needs a little chocolate, right? By the way, I'll be doing a couple of cooking demonstrations at the Daily Globe Women's Expo in Worthington on Saturday. If you're near, come see me.
Try Chunky Chewy Kumquat-Banana Cookies. You'll like them.
Chunky Chewy Kumquat-Banana Cookies
1 1/2 cups whole raw almonds
1/2 cup chopped kumquats
1 very ripe banana
1/2 cup butter, room temperature
1 cup firmly packed brown sugar
2 eggs
1 teaspoon pure vanilla extract
1 cup white wheat whole grain flour or all-purpose flour
1/2 teaspoon baking soda
1/2 teaspoon salt
1 teaspoon cinnamon
2 cups old-fashioned rolled oats
1 cup semisweet chocolate morsels
Preheat oven to 375 degrees. Spread almonds on a baking sheet in a single layer. Toast them in the preheated oven for about 10 minutes, until you can smell their fragrance and they just begin to turn a little darker. Remove from oven and immediately transfer to a plate to cool. Once almonds are cool, coarsely chop.
Place 1 egg in a blender along with kumquats and banana. Process until mixture is quite smooth.
In a large mixing bowl, cream butter with brown sugar until light and fluffy. Add remaining egg, vanilla and pureed fruit mixture. Beat to blend. Sift flour, salt, baking soda and cinnamon together. Add sifted ingredients to mixing bowl and beat on low speed to incorporate. Stir in oats, chopped almonds and chocolate morsels.
Spoon onto parchment-lined or ungreased baking sheet, using a rounded tablespoon for each. Bake in preheated 375-degree oven for 10 to 12 minutes or until cookies are set and turn light golden brown. Remove to wire rack to cool.
Makes 3 1/2 to 4 dozen cookies.
Sue Doeden is a popular cooking instructor, food writer and integrative nutrition health coach. She is the host of Good Food, Good Life 365 on Lakeland Public Television. Her own hives full of hardworking bees and her love of honey led to the creation of her recently published cookbook, Homemade with Honey.