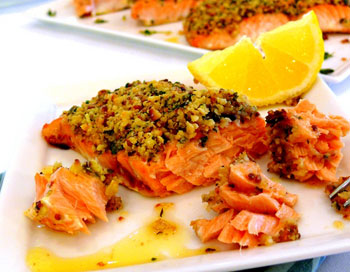 I love salmon. I probably eat entirely too much of it.
But what I love about salmon are the possibilities available to turn this simple fish into so many different amazing dishes. Salmon's blank canvas allows for everything from rich, heavy cream sauces to light and lemony bases to enhance its taste.
When I came across this recipe for Roasted Salmon with a Lemon-Herb Matzo Crust, I thought, how perfect for this time of year, matzo is everywhere. If you have never had matzo, it's time to pick out a box.
It's basically a giant unleavened cracker and is quite enjoyable when slathered with butter...yes, I eat it this way...it's supposed to replace bread...so why not.
Anyway, the crust on this fish is to die for, so full of flavor with the herbs, lemon and butter. I highly recommend this dish for any night of the week. It's high on the yum factor.
Roasted Salmon with Lemon-Herb Matzo Crust
Adapted from Rachael Ray
Six 1-inch thick center-cut salmon fillets (4-6 ounces each), skinned
2 sheets matzo, finely ground
3 Tablespoons finely chopped flat-leaf parsley
3 Tablespoons finely chopped fresh thyme
Grated peel of 1 lemon, plus 1 Tablespoon lemon juice, plus more for garnish
1 Tablespoon grainy mustard
1/4 cup extra-virgin olive oil
4 Tablespoons butter, melted
Using a food processor (or a rolling pin and a ziploc bag) finely grind matzo.
In a medium bowl, combine ground matzo, parsley, thyme, lemon peel, lemon juice and grainy mustard. Season with salt and pepper. Stir in olive oil and melted butter.
Season salmon fillets with salt and pepper. Cover the top of each salmon fillet completely with the matzo mixture, pressing to adhere. Roast the salmon in a 425 degree oven until the salmon is just cooked through but still translucent in the center, about 10 minutes.
Squeeze lemon over it before serving.
Cathy is currently in the development stages of her vineyard and winery in the Willamette Valley of Oregon. She is a food writer for Davis Life Magazine and blogs daily about wine, food and everyday living. She lives with her husband and two sons. You can visit her at noblepig.com.