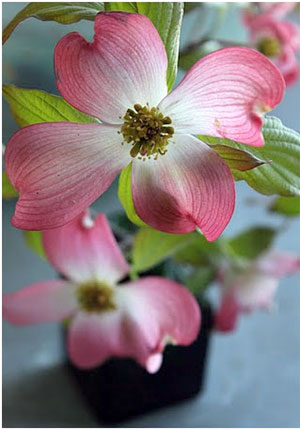 Green and white floral combos stop me in my tracks. But there is sometimes that mutation, veering shade, or complete stray in the garden that just makes a splash and causes me to stop and just wonder at the simple elegance of flower in a different shade. In this case, a pink dogwood is the variance from the white floral scheme.

A dogwood, Cornus florida, is stunning in its creamy white blousy bloom set against the green of longleaf pines, new green oak leafs, and all the freshness that only a chartreuse spring can herald. Just like genetics can give one sibling curls and another iron-strait locks, the plant family can express genes in the same fashion.
Then, after taking note of such a pink perfection blooming on the side of my house, I began to relish at the thought of grouping these pinky phenoms with other rosy hues. Pretty in pink just came to mind.

Some of Granddaddy's first roses of this vernal equinox were crowning the bush's stems and begging one to stop and smell – stop and smell and clip for a bouquet! Even the waxy florets of Indian hawthorn (Raphiolepis indica) tucked into the mix with a few azalea blossoms and the first fronds of maiden hair fern began to shape this arrangement, all held by a silver stein.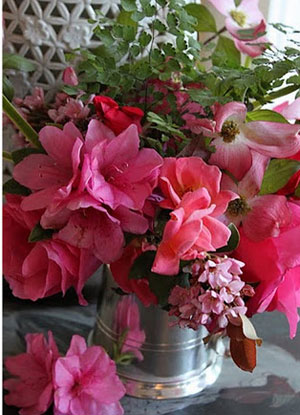 Three different roses, a few liriope sprigs, hawthorn and maiden hair all danced around the springboard flora, the pink dogwood, and are beautifully set against the white lattice backdrop of Mimi's Japanese ginger jar lamp (I'm a sucker for these and just about any chinoiserie or japanned).
I simply relish the opportunity to create a cacophony of hues, shades, and tints in the same color family, and with pink in bloom all over Dixie, the choices weren't too hard.

What is truly so amazing to me about these flowers is how delicate they appear, how painterly they are portrayed, and fast they come and go. Spring is precious, short and sweet here in Middle Georgia, but gives just the chance to gaze into the depths of a of the coral, fuchsia, rose, cherry, and ballet slipper covered landscape.

Take inspiration from a bud, flower, vase, color, or season and capture it in a bouquet. Just the spicy, sweet aroma of the different roses was luscious enough, but by adding the layers of the flouncy fern, woody stem darling dogwood, and the unexpected hedge flower to your homage au printemps is a sensual delight. From this Farmer's garden to yours, may you too be pretty in pink this spring.
Enjoy!
James T. Farmer III was born and raised in Georgia, where he continues to live and work as a landscape designer. He shares his love of food, flowers and photography on his blog All Things Farmer.