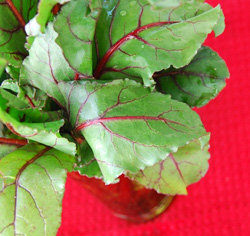 A few weeks ago at the farmers' market I asked for a bunch of beets. The farmer grabbed a beautiful bunch: five crimson colored globes topped with remarkably long, red stalks and large, crisp leafy greens. I could practically taste them.

Then right in front of my eyes, before I could utter a word, he beheaded my beautiful beets and flung the greens into a dirty cardboard box with other sad, misfit vegetables.

"What are you doing?" I asked.

"What? You didn't want them did you?" he asked, incredulous.

Didn't want them?! The beet greens are the best part.

It made me miss Carlos, the farmer from whom I bought beets all last year when we lived in LA. One Sunday when Carlos saw me coming, he ran from the table into the back of his van. He motioned me to follow him. When I reached the back of the van, he uncovered a big box full of fresh bunches of beet greens and flashed me a smile. "For me?" I asked. "For you, Miss."

I actually got a little welled up. In the midst of a bustling market, he thought to save me the beet greens and was less concerned with making extra money off of them than of making me happy.

Though no one could ever replace kind-hearted Carlos, I've met a new, super nice farmer, Sam. The first time I bought beets from Sam, I commented on how beautiful the beets greens were; he asked, "Would you like some more?"

"Really, are you sure you don't want them?" I asked.

"Yeah, you can have them," he said.

Imagine. Giving beet greens away. What is the world coming to?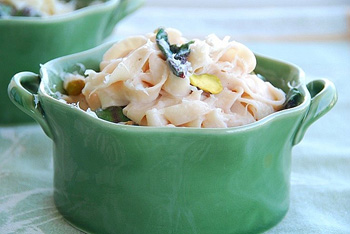 If you've never cooked with beet greens, then you're in for a treat. They taste similar to Swiss chard (slightly earthy and nutty) and are a delicious alternative to spinach. Though they can be eaten raw in salads, I prefer them cooked, which softens their texture and draws out their flavor.

Beet greens are true health food: One cup of cooked beets greens is only 39 calories and provides 220% (that's not a typo) of your daily vitamin A (for healthy eyes, cells, skin, and hair) and 60% of your daily vitamin C (a health-promoting antioxidant). It's also full of other nutritious vitamins and minerals. See below for tips on selecting, storing, and cooking with beet greens.
Though you can use any type of pasta you prefer for this creamy goat cheese and beet green pasta, I bought freshly made fettucine from Assenti's Pasta here in Little Italy. With so few ingredients in this dish, the light and chewy fresh pasta really stands out. It bears little resemblance to the dried boxed variety. Plus the creamy goat cheese sauce clings deliciously to it as you twirl it on your fork.


Creamy Goat Cheese and Beet Green Pasta
Serves 4

1 tablespoon plus 1 teaspoon olive oil
6 cups washed and sliced beet greens

1/2 pound fettucine (or other noodle)

1/2 cup heavy cream or half n' half
4 ounces goat cheese
1/4 teaspoon fresh thyme
salt and freshly ground black pepper, to taste
2 tablespoons pistachios
1/2 cup grated Parmesan or Asiago cheese

To prepare the beet greens, cut off the thick stalks. Submerge greens in a large bowl of cool water to remove dirt. Drain, rinse thoroughly, and pat dry. Remove any tough inner stalks of the beet green leaves, then slice cross-wise into thin strips. Set aside.

In a deep, heavy pot, cook pasta in salted water according to directions, preferably al dente. If using fresh, it should cook within 3-5 minutes.

In a large skillet, warm olive oil over medium heat. Add sliced beet greens, until wilted, about 2-3 minutes. In a small bowl, whisk the cream and goat cheese until well blended. Add to the skillet, and reduce heat to medium-low. Cook for 3-4 minutes, or until sauce begins to thicken slightly. Add fresh thyme, and season with salt and pepper. Add the cooked pasta to the skillet and toss until well coated. Divide among two plates; top with pistachios and extra grated cheese. Serve immediately.
- Also published on FoodBlogga.