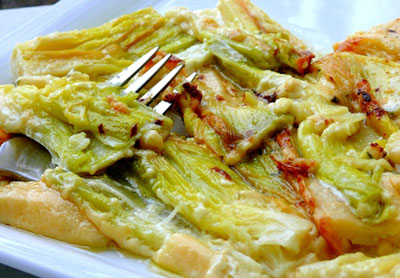 If the name of this dish alone doesn't pull you in, then let me explain to you how wonderful it is. Okay, it's wonderful. Believe me.

I truly feel leeks are under-utilized in cuisine in general. Yes, we throw them into soups for some flavor. But when you bake them with some cream and garlic and cheese.....oh my goodness, heaven.

If you need a side dish for your steak, your chicken, your pork chop or whatever, partner it up with this dish and everyone will be happy. The flavors are savory with a bit of sweet from the caramelization that takes place. It's heaven.

A must try. Get to the store and pick up some leeks. You won't be sorry you did.
Creamy Baked Leeks with Garlic, Thyme & Parmigiano
Adapted from Fine Cooking

1 teaspoon butter
Kosher salt
8 medium-large leeks (ideally with several inches of white)
2 teaspoons chopped fresh thyme
1 cup heavy cream
3 large cloves garlic, crushed
1/2 cup finely grated Parmigiano-Reggiano cheese

Preheat oven to 350o F. Rub the bottom of a shallow 10 x 15 dish (or similar) baking dish with butter. Sprinkle salt to lightly cover the bottom of the pan.

Cut the dark green portion and all but 1" of the light green off the top of the leeks. Peel away any tough or damaged outer leaves. Trim the ends by cutting the roots very close to the edge. Cut each leek in half lengthwise. Gently wash each half under running water and rinse as thoroughly as possible.

Pat the leeks very dry (you don't want extra liquid) and arrange them cut side down in the baking dish. They should all fit snugly but if they are crowded, turn a few on their sides. Sprinkle thyme and a little more salt over the leeks.

Heat the cream and garlic in a small saucepan over high heat. As soon as the cream comes to a rolling boil (watch carefully and don't let it boil over the pan), remove the pan from the heat and let sit for 5 minutes. Pour the cream and garlic evenly over the leeks.

Cover the leeks with a piece of parchment cut to fit inside the pan. Bake the leeks until the thickest ends are tender all the way through when pierced with a paring knife and the cream is almost entirely reduced, about 35-45 minutes. Sprinkle the leeks with cheese and salt to taste. Bake just until cheese melts, 1-2 minutes. Transfer the leeks to a warm serving platter.
Cathy owns her vineyard and winery in the Willamette Valley of Oregon. She is a food writer for Davis Life Magazine and blogs daily about wine, food and everyday living. She currently resides in Oregon with her husband and two sons. You can visit her at noblepig.com.