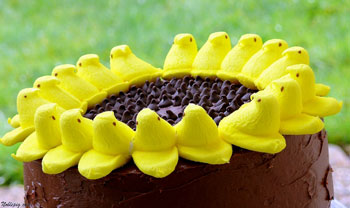 My youngest son has taken it upon himself to write to the office of the governor of different states. While he has sent out many letters, the first returned was from Governor Mark Parkinson of Kansas.

He felt quite proud receiving his letter as well as some other materials teaching him about life in that state. He couldn't wait to take it to school and share it with his class.

To celebrate, what could be better than a cake replicated as a sunflower, which happens to be the state flower of Kansas. Coincidently, it just so happens to be the time of year when Peeps are available everywhere, easily making the petals on this cake.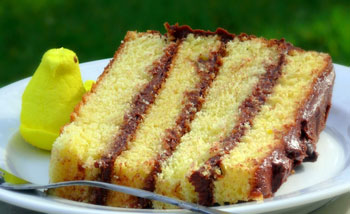 Overall, the cake is very striking and would look beautiful on your Easter table. I also think it would make an adorable birthday cake for a little girl's "Sunflower and Ladybug's" party.

I wanted a tall cake with layers so I used my favorite yellow cake and milk chocolate frosting recipe and doubled it. The chocolate chips in the middle are placed in a circular pattern to resemble the seeds in the middle of a sunflower.

Beautiful on the inside and out.

Peeps Sunflower Cake
Adapted from Taste of Home

Your favorite yellow cake recipe* (doubled, depending on how many layers you want) or 2 packages yellow cake mix** (or just one, again, dependent on how many layers)
Your favorite chocolate frosting recipe* or 2 cans chocolate frosting
18-20 yellow chick Peeps candies
1-1/2 cups semisweet chocolate chips

Prepare and bake cakes using prepared 9-inch round baking pans (I wanted four layers so I doubled my cake recipe and divided it among four pans; if you make a boxed mix use 2 packages and divide among four pans as well. Making a two layer cake is also acceptable, no doubling required).

After cakes have cooled, make sure to level the tops so the cakes sit evenly on top of each other. Spread the frosting between the layers and over the top and sides of cake.

Without separating Peeps and curving slightly to fit, arrange chicks around edge of cake for sunflower petals. For sunflower seeds, arrange chocolate chips in center of cake.

*My favorite yellow cake and chocolate frosting recipe belong to a friend of mine, they are not mine to share and have been in their family for years.

**I am often asked about which grocery store boxed cake mix I think is the best. Hands down I believe it's Duncan Hines Moist Deluxe, Butter Recipe Golden...there is no comparison.
Cathy is currently in the development stages of her vineyard and winery in the Willamette Valley of Oregon. She is a food writer for Davis Life Magazine and blogs daily about wine, food and everyday living. She lives with her husband and two sons. You can visit her at noblepig.com.