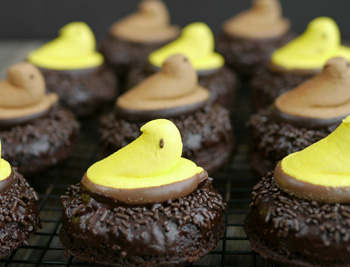 Easter is almost here and while many of us are planning the main meal, whether that's brunch or dinner, we can't forget about treating the kids (or adults) to something sweet for breakfast while they are hunting for those eggs.

I'm not sure if these Peeps Chocolate Dipped Marshmallow Chicks are new this year (I haven't seen them before), but they are sure cute. I imagined them sitting on a nest of chocolate and thought baked donuts would be the perfect perch.

My kids eyes lit up when they walked in and saw these. I had to fight them off while I photographing as they wanted to just dig in and try them. I don't blame them.
The brown Peeps are chocolate mousse-flavored and very yummy. The chicks have also been pre-dipped in milk or dark chocolate.
You will need donut pans to make these desserts. If you only have one 6-well pan, you will have to cool it completely before adding more batter to the pan and baking the second batch.
Peeps Chocolate Donut Nests
Recipe from NoblePig.com | Serves: 12
Ingredients
Donut:
2/3 cup cocoa (Dutch processed)
1-3/4 cups all-purpose flour
1 cup light brown sugar
1/4 cup dark brown sugar
2 teaspoons espresso powder
1 teaspoon baking powder
1 teaspoon baking soda
3/4 teaspoons table salt
2 large eggs
3/4 cup heavy cream
1/4 cup whole milk
1-1/2 teaspoons vanilla extract
2 teaspoons white vinegar
1/2 cup butter, melted
Glaze:
1-1/2 cups chocolate chips, semisweet
1/4 cup butter, cut into small pieces
1/8 cup heavy cream
1 teaspoon corn syrup
1 teaspoon vanilla extract
Directions:
Lightly grease the wells of two standard donut pans with cooking spray and preheat the oven to 350 degrees F.
In a large bowl, combine cocoa, flour, both sugars, espresso powder, baking powder, baking soda and salt.
In another bowl, whisk together eggs, heavy cream, milk, vanilla extract and vinegar.
Add the wet ingredients to the dry along with the melted butter to the bowl of dry ingredients. Stir together until batter is fully combined.
Spoon batter into donut pans and until about 2/3 full. (If you overfill and the batter bakes over the hole, just use a knife to cut the hole out.)
Bake for 12-15 minutes or until a toothpick comes out clean.
Right after removing from the oven turn the donuts onto a wire cooling rack. Let cool completely.
To make the glaze, place all ingredients in a large saucepan over low heat. Stir constantly until melted and combined; 2-3 minutes. While glaze is still warm, dip tops of each donut into glaze and sprinkle generously with chocolate jimmies. Dip bottoms of Peeps Chocolate Dipped Marshmallow Chicks into glaze, just enough for it to adhere to the donut and place on top of the sprinkles. (if cannot find the chicks use a Peeps Bunny instead.
Cathy owns a vineyard and winery in the Willamette Valley of Oregon. She is a food writer forDavis Life Magazine and blogs daily about wine, food and everyday living. She lives with her husband and two sons. You can visit her at noblepig.com.