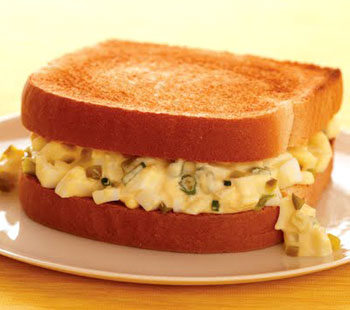 Looking for ways to use up Easter egg-hunt leftovers? Make an egg salad sandwich. Actually, make several egg salad sandwiches, one for each day this week, because today marks the start of National Egg Salad Week in the U.S. Yup. We love egg salad so much that we devote an entire week in its honor.

Our love for egg salad sandwiches runs deep, all the way to 1896. That's when one of the earliest printed recipes for a sandwich made with egg salad appeared in The Original Boston Cooking-School Cook Book, written by Fannie Merritt Farmer. Then with the introduction of sliced soft white bread in the 1930s, egg salad sandwiches became a brown-bag lunch staple as well as a common item at delis, diners, and cafeterias.

It's no surprise that the majority of egg salad sandwiches are eaten after Easter when many people are looking for tasty ways to use up Easter egg-hunt leftovers. While there are various ways to make egg salad, I favor grandma's fuss-free version: tangy, sweet, and creamy.

Don't fret if you don't have any leftover Easter eggs this week. May is National Egg Salad month. I know. As if a whole week in April weren't enough.
Egg Salad Sandwich
Makes 2

4 eggs
1/4 cup mayo
1/2 teaspoon Dijon mustard
2 teaspoons sweet pickle relish
2 thinly sliced scallions
1/4 teaspoon salt
1/4 teaspoon freshly ground black pepper
4 slices toasted white, whole wheat, or sourdough bread

1. Place eggs in a large saucepan and fill with enough water to cover by 2 to 3 inches. Bring water to a rolling boil and cook eggs 2 minutes. Remove from heat and let stand 5 minutes. Drain and cool eggs in a bath of cold water for 10 minutes. Peel eggs and let cool to room temperature. In a medium bowl, mash eggs with either a fork or a potato masher.

2. In a separate small bowl, mix mayo, mustard, relish, scallions, salt, and pepper. Pour over mashed eggs. Stir until combined. Refrigerate at least 3 hours before using.

3. Divide egg salad evenly between two slices of toasted bread. Close sandwiches, slice in half on the diagonal, and serve.

Variation:
California Egg Salad Sandwich: Add slices of fresh avocado, watercress, and pea shoots and serve on multigrain or sourdough bread.
Susan Russo is a free lance food writer in San Diego, California. She publishes stories, recipes, and photos on her cooking blog, <Food Blogga and is a regular contributor to NPR's <Kitchen Window. She is also the author of Recipes Every Man Should Know
and The Encyclopedia of Sandwiches
.