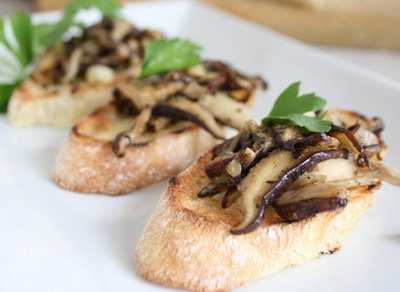 I've spent most of my life turning up my nose at mushrooms. That all changed last summer when I discovered the sublime flavor of chanterelle mushrooms plucked fresh from the forest floor and sauteed in butter with garden-fresh sage leaves. I blogged about my foraging experience in Duluth with Dick Ojakangas last summer. Beatrice Ojakangas immediately transformed our chanterelle harvest into a luscious appetizer.
That foraging experience was followed by my weekend at Mushroom Camp. After that, a visit to Dallas Flynn's farm in Frazee, Minnesota. He sent me home with some of the shiitake mushrooms he raises. Those beauties went into a pasta dish. I became hooked on mushrooms.
On this Earth Day weekend, I'm making Mushroom Crostini. Buttery cremini mushrooms or creamy and light shiitakes are both good choices for this appetizer or snack. It's so easy to make.
First, toast some baguette slices. Brush both sides of each slice with olive oil. I toast them in a grill pan. When the weather is nice, use your outdoor grill.
Then, saute thinly sliced mushrooms with dried Italian seasoning blend. When I made this treat during a "Cooking with Herbs" demonstration for the Lakes Area Garden Club in Detroit Lakes the other night, I added a sprig of fresh thyme and a sage leaf to the pan as the mushrooms cooked. Some garlic, salt and pepper is all that's needed for the finishing touch of flavor.
Serve the warm mushroom mixture on the little toasts, or crostini.
What better way to celebrate Earth Day than enjoying a gift from its soil?
It will soon be time to hunt for morel mushrooms. Won't those be the perfect treasures to create this delicious crostini? I can't wait!
Mushroom Crostini
2 tablespoons olive oil
8 ounces cremini or shiitake mushrooms, wiped clean, stems removed, sliced thin
Italian dried herb blend, to taste
1 or 2 tablespoons dry sherry or white wine, optional
3 cloves garlic, minced
Salt and pepper, to taste
Baguette slices, toasted
Heat olive oil in saute pan. Add sliced mushrooms and Italian seasoning. Saute until mushrooms are soft and tender. Add garlic and optional dry sherry or wine. Continue to saute for a minute or two, just long enough for garlic to lose its raw flavor. Season mixture with salt and pepper.
Serve warm on toasted baguette slices. Makes about 8 crostini.
Sue Doeden is a popular cooking instructor, food writer and integrative nutrition health coach. She is the host of Good Food, Good Life 365 on Lakeland Public Television. Her own hives full of hardworking bees and her love of honey led to the creation of her recently published cookbook, Homemade with Honey.