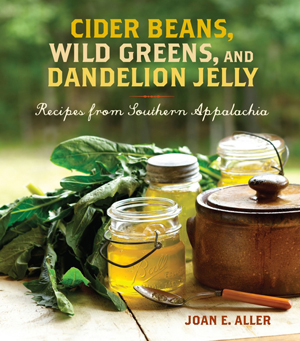 As I made my way through Cider Beans, Wild Greens, and Dandelion Jelly I was reminded of my paternal grandmother and the food I knew she cooked. Southern Appalachia and the people who live there are in kind to where my father came from, to the food and customs. Distant eastern cousins I'd venture to say. I found this book comforting in many ways. It is not a book of high cuisine; in fact I think I can correctly say it's all about low cuisine and that's a good thing. Author, Joan E. Aller, a transplant to southern Appalachia fell in love with the place once she was there. Wanting to preserve a lifestyle that she saw quickly changing she set about collecting the best recipes southern Appalachia had to offer by traveling around the area and gathering up recipes, stories and histories from the area's inns, hotels, bed and breakfasts, restaurants, taverns and cafes.
The book is a lovely compendium of the simple yet hearty and heartwarming food of the region. Full of beautiful color photography and a written history of the region, this is a book to pick up and read often.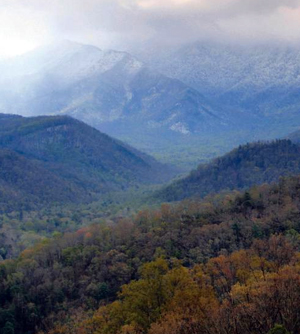 Dishes like 'High Country Breakfast Casserole' served at The Buffalo Tavern Bed and Breakfast to 'Appalachian Cider Beans' (a personal favorite) come with an explanation, a story, before the recipe begins. To wit cider beans are traditionally served at the local gas station which become de facto social centers. Locals gather at the closest gas station, eat, and catch up on area news.
The recipes I tested all worked just fine; they were straight-forward and easy to make. A few of my favorite dishes were the 'Pork Chops Southern-Style,' 'Corn Pone, Tennessee-Style,' 'Grilled Okra with Pine Nuts' and the 'Appalachian Cider Beans.' A fun chapter in the book is 'Beverages' where recipes for 'Southern Sweet Tea,' 'Mammy Williams's Dandelion Wine' and 'Southern Milk Punch' (vanilla ice cream and bourbon!) can be found. The final chapter is 'Country Store' and has recipes for pickles, relishes, jellies and jams. A whole lot of good southern cooking is delightfully packed into the pages of Cider Beans, Wild Greens, and Dandelion Jelly. If you are looking for some good southern comfort food grab this book and start cooking. You won't be disappointed.
Charles G. Thompson is a Los Angeles-based freelance food writer, whose reviews and stories can be found at his blog 100 Miles, an exploration of local sustainibility.