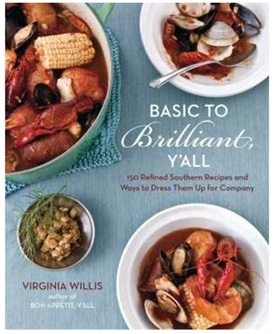 Virginia Willis is like the Southern cousin you wish you had. She's smart, funny and warm and has a mischievous sparkle in her eye. I finally got to meet her earlier this year in Monterey at Cooking for Solutions. She did a cooking demo where she had the audience laughing over a story about her appearance on the Paula Dean show (the story is in her latest book, by the way). But what I remember most is the spectacular dish she made with trout.
I can still taste it in my mind. It was pan-seared trout drizzled with pecan butter and topped with an incredibly rich smoked trout salad. And the recipe is dead simple. That's the signature of Virginia Willis, amazing food that really isn't all that difficult but definitely something extra special.

Virginia's latest book, Basic to Brilliant, Y'all
, is all about the "something extra special." Each recipe has a simple component--like the seared trout, and an optional brilliant flourish--like the topping of smoked trout salad. It's what makes this cookbook a real keeper (even if you have other Southern cookbooks). The recipes are fresh and modern and reflect both Virginia's Southern roots and her French training so you'll find recipes like Savory Monkey Bread, Coca Cola Cake and Creole Country Bouillabaisse.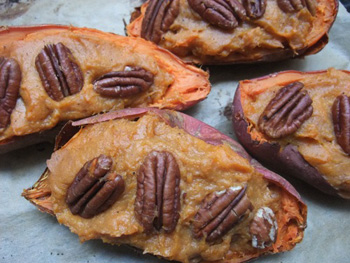 I may be anything but a Southern girl, but like Virginia I am pretty much crazy about sweet potatoes. Basic to Brilliant, Y'all has eight sweet potato recipes in it, including soup, salad and spoonbread. But the recipe that caught my eye was Twice Baked Sweet Potatoes. The reason I wanted to make it was because it uses sorghum as a sweetener (there are suggestions for other sweeteners if you don't have sorghum). I love the earthy flavor of sorghum and just got my first batch of it from Bourbon Barrel Foods earlier this year.
The recipe is basically roasted sweet potatoes, mashed and spiced with just a tiny bit of butter and sorghum. But it still manages to be rich and comforting. The twist is to double bake the skins and fill them up with the mash then top them with pecans and bake them yet again. It's a great side dish, but I even ate one of these beauties for breakfast the other day!

Here is the recipe, printed by permission Basic to Brilliant, Y'all by Virginia Willis, Tenspeed Press, 2011

Spiced Sweet Potato Mash
Serves 4 to 6

Sweet potatoes are good and good for you. Most Southern recipes drown them in butter and sugar, but they are so good with a just a whisper of butter. In this recipe the potatoes are first roasted, then scooped and mashed. You can use the microwave if you are pressed for time, but roasting brings out the complex flavors.

4 medium sweet potatoes (about 2 pounds)
2 tablespoons sorghum, cane, molasses, or maple syrup
1 tablespoon unsalted butter
Finely grated zest and juice of 1/2 orange
1/2 teaspoon ground cinnamon
1/2 teaspoon ground allspice
1/4 teaspoon freshly grated nutmeg
Pinch of cayenne pepper
Coarse salt and freshly ground black pepper

Preheat the oven to 400°F. Line a rimmed baking sheet with a silicone baking liner or parchment paper. (This will help with clean up.) Using a fork, pierce the sweet potatoes in several places and place on the prepared baking sheet. Bake until fork-tender, about 50 minutes. Set aside to cool.

When the potatoes are cool enough to handle, peel the potatoes, discarding the skin. Place the pulp in large bowl. (If you really want them creamy, press
them through a fine-mesh sieve or food mill.) Add the syrup, butter, orange zest and juice, cinnamon, allspice, nutmeg, and cayenne. Season with salt and pepper.

Using a potato masher, heavy-duty whisk, or handheld mixer, beat until smooth. Taste and adjust for seasoning with salt and pepper. Transfer the sweet potatoes to a warmed serving bowl. Serve immediately.

Brilliant: Presentation
Twice-Baked Sweet Potatoes
Meme peeled hers; discarding the skin, and Mama does, too, but I like the leathery skin. It's the extra step of stuffing these that makes this recipe Brilliant.

Using an oven mitt or folded kitchen towel to hold the cooked potatoes, cut the potatoes in half. Using a spoon, scoop the flesh from each half into a bowl, leaving a 1/8-inch to 1/4-inch thickness of flesh in each shell.
Arrange the shells on a baking sheet and bake until dry and slightly crisped, about 10 minutes. Meanwhile, prepare the mash as in the Basic recipe. Spoon the still-warm potato mixture into the crisped shells, mounding slightly at the center. Sprinkle 1/2 cup pecans equally over the filled sweet potatoes. Bake until slightly brown and crisp on top, about 10 minutes.
Serve immediately. Serves 4 to 8.
Amy Sherman is a San Francisco–based writer, recipe developer, restaurant reviewer and all around culinary enthusiast. She blogs for Epicurious , Bay Area Bites and Cooking with Amy.