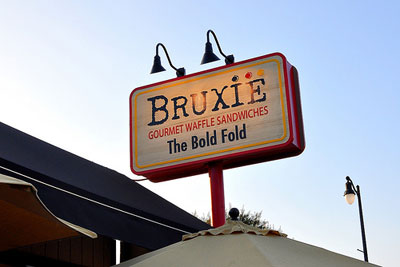 Last Friday I took my daughter Hannah to tour Chapman College located only an hour south of Los Angeles, making it very convenient for her to bring me her laundry should she get in. Chapman is located in the charming area of Old Town Orange and we were given a personal tour of the campus by none other than the Dean of Admissions himself, Michael Pelley. Look in the dictionary for the opposite of 'stuffy' and you'll find Michael Pelly. Hannah had never interviewed at a college before and she was uncharacteristically mute when meeting with the Dean of The Film School. But not with Pelly. He was the ultimate host giving us a comprehensive tour that created the appropriate sense of longing.
At the end we walked to the corner of campus to Bruxie Gourmet Waffle Sandwiches. I love their tag line: The Bold Fold. Was this part of the tour? It should be.
With a list of savory and sweet waffle sandwiches clearly the proprietors have a vision. Michael recommended the grilled portabella mushroom, goat cheese, sun dried tomatoes and arugula with a drizzle of balsamic reduction. Hannah had the 'smores. They also have fresh lemonade along with locally crafted artisan colas made specifically for Bruxie's.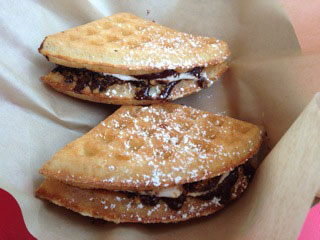 We sat outside (since this is pretty much a 'stand') and dug in. The waffles were crunchy on the outside and light and airy on the inside. Oh my fucking god this stuff was good. Its no wonder Yelp rated it #2 out of 10,000 restaurants around the country last year.
Michael seemed to be a regular (who wouldn't be) and gave me the low down on its history. We were eating at the original location, which was previously The Dairy Treet. The owner, Dean Simon, approached the owner of The Dairy Treet and asked him if it was for sale.
I suppose if this part were a cartoon, you might see a tumbleweed fly through frame and the sign creak in the wind. Business was bad and the owner promptly said "yes".
Business exploded there and it's never stopped. They've now expanded to 3 other locations. Dean Simon is a salt of the earth guy and his chef; Kelley Mullarney looks like a benevolent pirate.
They gave us samplings of some of their sweet waffles and Hannah and I were honored by the attention. We had Lemon Meringue "Pie" Bruxie, Lemon Cream & Berries and s'more S'Mores. Explore their website. Like Barndiva in Healdsburg, there is a philosophy and creative spirit that had the menu ever changing. I'm not gonna lie. Hannah's and my pants were open on the ride home.
Laraine Newman is a founding member of The Groundlings Theatre Company and an original cast member of Saturday Night Live. She lives in her hometown of Los Angeles with her husband and two daughters.