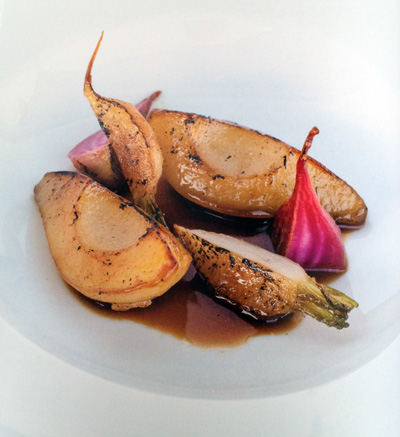 From the Editors: For those of you looking for a fancy side to grace you holiday tables, give this recipe from Top Chef Master Ludo Lefebvre a try. Filled with the best produce of the season it not only looks pretty, but will add a spicy flair to your dinner as well.
4 side-dish servings
2 cups water
3/4 cup plus 2 teaspoons sugar
1 Ceylon cinnamon stick
4 whole cloves
1 vanilla bean, split lengthwise
2 firm but ripe Bartlett pears, peeled and stemmed
8 baby turnips, peeled
8 baby beets, peeled
1 tablespoon extra virgin olive oil
3/4 cup Duck Stock (or other homemade stock)
Fleur de sel and freshly groung pepper
Stir the water, 3/4 cup sugar, cinnamon, and cloves in a heavy medium saucepan to blend. Scrape the seeds from the vanilla bean into the sugar mixture; add the bean. Bring to a boil over medium-hight heat, stirring until the sugar dissolves. Add the pears. Reduce the heat to medium-low and simmer until the pears are crisp tender, about 15 minutes. Using a slotted spoon, transfer the pears to a bowl; cool. Cut the pears lengthwise in half. Using a melon baller, remove the core. Discard the poaching liquid.
Cook the turnips in a large saucepan of boiling, salted water until just crisp-tender, about 5 minutes. Using a slotted spoon, transfer the turnips to a bowl of ice water to cool. Transfer the turnips to a plate and set aside. Cook the beets in the same saucepan of boiling salted water until crisp-tender, about 7 minutes. Using a slotted spoon, transfer the beets to the bowl of ice water to cool. Drain.
DO AHEAD: At this point, the pears, turnips and beets can be prepared up to 1 day ahead. Cover separately and refrigerate.
Heat oil in a heavy large sauté pan over medium-high heat. Sprinkle the remaining 2 teaspoons of sugar over the oil. Add the pear halves, turnips and beets. Cook until the pears and vegetables begin to brown, about 8 minutes. Add the duck stock. Reduce the heat to medium-low and simmer until the liquid is reduced by half; about 5 minutes. Season to taste with flour de del and freshly ground pepper. Serve immediately, spoon sauce over vegetables.
- Recipe courtesy of Crave: The Feast of the Five Senses (10th Anniversary Edition). Copyright ©2014 by Ludo Lefebvre. All rights reserved.