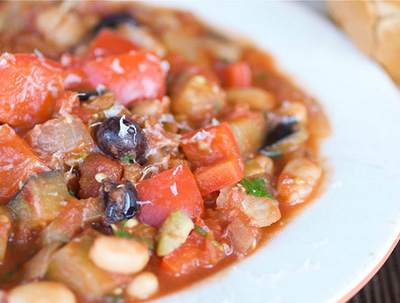 When I was a child I felt sorry for kids whose moms made "meat and potatoes" dinners. That was until I heard of moms who were vegetarians. I thought that was tragic.

I think I was about eleven when I discovered vegetarianism from a student teacher who was raising her children to be vegetarians. No hamburgers on the grill? No hot dogs at baseball games? No chicken parm sandwiches on Sunday night? What kind of a mother does that to her children? I wondered. If it weren't for my mom's meatball sandwiches, I don't think I would have made it through middle school.

Then one day several years later, I did the unthinkable. I became a vegetarian; not because I wanted to ruin my children's lives (I don't have children), but because of an unfortunate incident with some tainted chicken. I didn't eat meat for years after that.

I do eat meat now, but I still love vegetarian meals which I eat several times a week. For those of you who wonder whether or not a vegetable stew can be as satisfying as beef stew, I'm telling you, Yes, it can.
Since it's loaded with fiber-rich vegetables and high-protein cannelini beans, this vegetable stew is filling yet low-cal and healthy. It's reminiscent of eggplant caponata, but has more layers of flavor since it's got licorice-scented fennel and briny Kalamata and Cerignola olives. I don't have to tell you to sop up the juices with good, crusty Italian bread.

I don't miss the meat in this vegetable stew at all. Of course, I don't plan on giving up my mom's meatball sandwiches. That would be tragic.

Mediterranean Vegetable Stew with Olives
Makes 6 servings

Note: Omit the grated cheese, and this recipe is vegan.

3 tablespoons olive oil
1 yellow onion, diced
3 garlic cloves, minced
1 fennel bulb, cut into ¾-inch pieces (about 1 ½ cups)
1 eggplant, cut into ¾-inch pieces (about 3 ½ cups)
1 red bell pepper, cut into ¾-inch pieces (about 2 cups)
¼ cup dry white wine
1 (28- ounce) can crushed tomatoes
¼ cup coarsely chopped Kalamata olives
¼ cup coarsely chopped Cerignola olives (large, green Italian olives)
1 (14-ounce) can cannellini beans, drained
Zest of ½ lemon (about 1 teaspoon)
1 teaspoon fennel seeds
¼ teaspoon salt
¼ teaspoon crushed red pepper flakes
1 tablespoon finely chopped fresh rosemary
3 tablespoons finely chopped fresh parsley
Grated Parmesan or Reggiano-Parmigiano cheese

1. In a large skillet over medium-high heat, heat oil. Add onions, and sauté until just transparent, about 3 minutes. Add garlic and fennel, and cook 2 minutes. Add eggplant and peppers, and cook 3-4 minutes, or until slightly softened. Add wine, and cook 5 minutes. Add tomatoes. Reduce heat to low, and simmer for 10 minutes, or until vegetables are tender but not mushy. Add olives, cannellini beans, lemon zest, fennel seeds, salt, and crushed red pepper. Stir well, and cook until heated through, 3-4 minutes. Stir in fresh herbs.

2. Serve with crusty Italian bread, or serve atop polenta, rice, or wide pasta noodles, such as parpadelle. Garnish individual servings with desired amount of grated cheese.
Susan Russo is a free lance food writer in San Diego, California. She publishes stories, recipes, and photos on her cooking blog, <Food Blogga and is a regular contributor to NPR's <Kitchen Window.