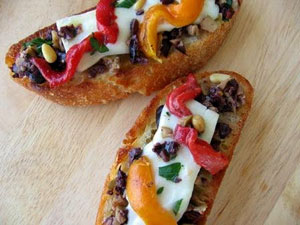 Bruschetta and crostini? What's the difference?
They're both wildly popular, easy-to-make Italian appetizers of toasted bread with toppings.
In my family, bruschetta was toasted bread rubbed with garlic and topped with olive oil, tomatoes, and basil, while smaller slices of toasted bread with various toppings were called crostini.
I wanted to provide you with a more thorough explanation of the difference between the two, so I explained to Jeff that we needed to take a trip to Italy to conduct research for my blog. However, out plans fell through. So instead I just Googled it.
Brushcetta, from the Italian "bruscare," which means "to roast over coals," refers to the bread, not the toppings. Rather large slices of bread are grilled, rubbed with garlic, then drizzled with olive oil. They are usually topped with tomatoes and basil, though other toppings from meats to vegetables can be used.
Crostini, "little toasts," are thinner, smaller slices of bread (usually from a baguette) that are always toasted then piled with various toppings, such as vegetables, savory spreads, and cheeses.
Honestly, technicalities beyond that just aren't important. If it's crispy bread toasted with olive oil and piled with savory toppings and cheese, just call it "irresistible." Then make some for the next party you're going to where everyone will love you for it.
This is a fast, easy, and vegetarian recipe. With garlicky roasted peppers, salty olives, and creamy Brie cheese, this is flavorful, classy bruschetta that takes 15 minutes to make.



Roasted Pepper, Olive, and Brie Bruschetta
Topping:
2 1/2 tablespoons extra virgin olive oil
1 cup minced cured olives, such as Kalamata and Cerignola
1 cup bottled roasted red and yellow peppers (thinly sliced or diced)
2 tablespoons minced fresh parsley
2 tsp crushed red pepper flakes

8-10 ounces of soft Brie cheese, sliced, or 1 ounce per slice of bread
2 tablespoons pine nuts, toasted
extra chopped fresh parsley, optional garnish

Bruschetta:
1 loaf of crusty Italian bread, such as Ciabatta sliced into 8-10 thick slices
1 whole garlic clove, paper removed
4-5 teaspoons of extra virgin olive oil (about 1/2 teaspoon per slice)

To toast the pinenuts, place in a dry skillet over medium heat. Gently shake the pan handle to ensure even toasting, for about 1 minute, or until golden brown. Remove and set aside.

In a small bowl, combine olive oil, olives, roasted peppers, parsley, and red pepper flakes. Stir until well combined. (This topping can be made up to a day or two in advance and placed in an air-tight container in the refrigerator. Bring to room temperature before applying to bruschetta.)

Grill bread slices on an outdoor grill (or on a grill pan indoors, like I did) until lightly charred and crispy. You could also place them under the broiler. Rub each toasted slice with the raw garlic clove and drizzle with a teaspoon of olive oil.
While the bread is still warm, top with brie then olive mixture. Sprinkle with toasted pine nuts and extra chopped parsley, if desired, and serve immediately.
Susan Russo is a free lance food writer in San Diego, California. She publishes stories, recipes, and photos on her cooking blog, <Food Blogga and is a regular contributor to NPR's <Kitchen Window. She is also the author of Recipes Every Man Should Know
and The Encyclopedia of Sandwiches
.