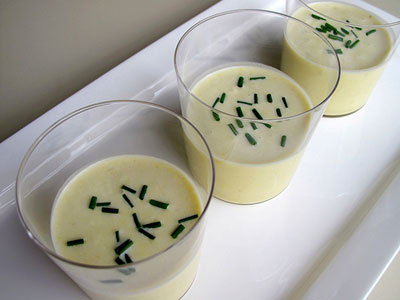 As the weather warms toward summer days, I look forward to enjoying cool and refreshing soups. One of my favorite cold soups is Vichyssoise with its combination of potatoes and leeks that is simply delicious. The great thing about this soup is that you can enjoy it either hot or cold or even just warm.
The soup's French name makes it sound much more fussy than it really is. But the soup is not really French in origin. It was invented in the 1920s by a Frenchman at the Ritz in New York City.
The preparation is as simple as sautéing leeks and boiling potatoes. Once it's cooked, simply purée. I love to serve a soup like this in small cups as an appetizer. It's the perfect start to a summertime dinner party.

A tip on handling leeks: The best way to clean and prepare leeks for a recipe that calls for sautéing them is as follows. First remove the tough dark green part, then cut the leek lengthwise, and finally cut the leek into ribbons crosswise. Wash in many changes of water and drain in a colander.

Vichyssoise
2 tablespoons butter
1 tablespoon olive oil
2 shallots, finely chopped
3 leeks, white and light-green parts, thinly sliced
1 pound potatoes (about 2 medium), peeled and diced
4 cups chicken stock
1 bay leaf
1 cup heavy cream
coarse sea salt
freshly ground white pepper
chives, for garnish
Heat butter and oil in a large pot over medium-low heat. Add shallots and leeks. Cook until translucent and soft but not brown, about 10 minutes. Add potatoes, chicken stock, and bay leaf; bring to a boil. Reduce to a simmer and cook until potatoes are tender, about 25 minutes.
Using a blender, purée the soup in batches until silky smooth. Return the soup to the pot and warm. Stir in cream and season with salt and pepper. Serve hot or cold. Garnish with chopped chives. Yield: 6 to 8 servings.
Joseph Erdos is a New York–based writer and editor, butabove all a gastronomer and oenophile. He shares his passion for foodon his blog, Gastronomer's Guide , which features unique recipes and restaurant reviews among many other musings on the all-encompassing topic of food.