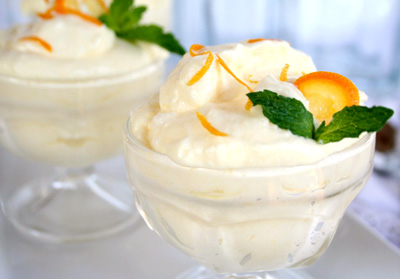 Many years ago, my mother-in-law's niece made a trip to England. She brought two gifts back for my mother-in-law — a Bone China tea cup and saucer and a cookbook. I was the lucky daughter-in-law who got both of her English treasures after she died.
I pulled "Cook in Your Castle" off the shelf this week. After paging through the section on desserts, I finally decided on 10 Downing Street Frozen Orange Mousse, a recipe from Margaret Thatcher, who was Prime Minister at the time the book of recipes was compiled.
There were a couple of things about the recipe that worried me a bit. First, I noticed it called for gelatin. I don't use gelatin very often. The recipe didn't explain how to dissolve it before adding it to the mixing bowl.
I wound up putting 2 tablespoons of cool water into a custard cup. I sprinkled the packet of gelatin over the water and mixed it with a fork. The gelatin immediately absorbed the water and became an ugly, clumpy mass. I left it sit for 5 minutes and, in the meantime, heated some water in a small saucepan on the stove. Just before the water came to a boil, I removed the saucepan from the heat and set the custard cup holding the clumpy gelatin in the water that came halfway up the sides of the bowl. As I stirred the gelatin mixture, it began to dissolve and become liquid. Smooth and lump-less liquid. The mousse turned out perfectly light and lovely.
I'm not convinced, though, that the gelatin is necessary. I remember Chef Christopher Rounds (the Key West king of coconut cream from my previous post) told me he uses gelatin in his coconut cream pie to hold it all together. I'm guessing that if this orange mousse is going to be kept in the refrigerator for a day or two, the gelatin will keep it looking light and fluffy.
Then, there is the issue of using uncooked yolks and whites of eggs. Salmonella is a concern.
Cooking eggs destroys the Salmonella; however, they must be cooked to a temperature of at least 160°F (71°C). Sunny-side up and over-easy eggs often do not reach this temperature. For recipes that contain raw eggs such as Caesar salads, mousse, or homemade ice cream, it is best to use pasteurized eggs that have been heated to a high enough temperature to ensure that the Salmonella has been destroyed. These days, pasteurized eggs are available in most grocery stores.
Although this fluffy dessert is called Frozen Orange Mousse, the recipe directs the cook to refrigerate the mixture. I did both. Frozen, the mousse melts in the mouth like rich, creamy frozen custard, leaving that all-too-familiar-to-me coating of fat in my mouth.
Chilled, the orange mousse is as light and puffy as a big white cloud.
It's a nice little breakfast treat, too, with a cup of English tea, of course.
I've rewritten the recipe with ounces turned into cups and directions for dissolving the gelatin.
You'll discover there's always room for mousse!
Cheerio!
Margaret Thatcher's 10 Downing Street Orange Mousse
3 large pasteurized eggs
1/2 cup castor (superfine) sugar
4 tablespoons frozen orange juice concentrate, thawed
1 envelope unflavored gelatin
1 cup heavy whipping cream
Fresh mint leaves, orange pieces and shredded orange peel for garnish
Separate eggs. Eggs are easiest to separate when they are cold. In a large mixing bowl, use an electric mixer to beat yolks, orange juice concentrate and superfine sugar until very light and pale.
Put 2 tablespoons cold water in a glass custard cup or small bowl. Sprinkle gelatin over the water and mix with a fork. Allow to sit for 5 minutes. In the meantime, heat water in a small saucepan, using just enough water to come halfway up the sides of the custard cup when it is set into the pan. Just before the water comes to a boil, remove the pan from the heat. Set custard cup in the hot water. Stir gelatin with a fork until it dissolves and the mixture becomes smooth liquid.
In another bowl, whip cream. Add whipped cream to yolk mixture in large mixing bowl. Beat on low speed to incorporate. Pour in the warm gelatin and blend.
In another bowl, beat egg whites until stiff. Gradually add whites to mixing bowl, gently folding them into the creamy mixture.
Spoon orange mousse into one serving bowl or several small dessert cups. (I filled 6 of the dessert cups as shown in the photo plus one custard cup that I froze.)
Sue Doeden is a popular cooking instructor, food writer and integrative nutrition health coach. She is the host of Good Food, Good Life 365 on Lakeland Public Television. Her own hives full of hardworking bees and her love of honey led to the creation of her recently published cookbook, Homemade with Honey.