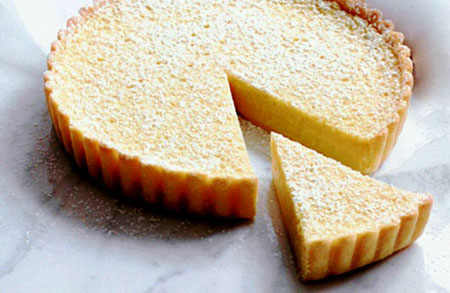 When I was a student living in Paris, one of my favorite rituals was to treat myself to a tiny lemon tart at a local patisserie after class. There were dozens of shops to choose from along my walk from the Sorbonne to my small apartment near the Place des Victoires.
If I was feeling extravagant I would stop by Fauchon near the Place de la Madeleine, and leave with a lemon tart boxed in their trademark hot pink packaging and black and white bag; otherwise, there were plenty of other neighborhood shops that offered tasty tarts at a more reasonable price.
I still love a lemony dessert, especially at the end of a great meal. This is one of my favorite recipes - very lemony, but with a rich creamy filling. It's from Luscious Lemon Desserts
by Lori Longbotham and is the best version I've had outside of Paris – the zest in the filling and in the crust gives it a great burst of lemon flavor.
Paul Bocuse's "Simple French Recipes for the Home Chef" calls for crème fraiche, but I find the heavy cream works just as well. This is the perfect finish to a great dinner.
Tarte au Citron
1 stick unsalted butter
2 tablespoons finely grated lemon zest
1 3/4 cup flour
1 1/4 cup sugar, divided
2 pinches salt
6 large eggs
1 cup fresh lemon juice
1/2 cup of heavy cream
1. Position rack in middle of oven and preheat to 350°F. Have ready an 11" tart pan.
2. Melt the butter in a small saucepan. Add 1 tablespoon of the zest and let stand for 5 minutes.
3. Whisk together flour, 1/4 cup sugar and a pinch of salt in a medium bowl. Pour the butter mixture in a fine stream, stirring with a fork, and continue stirring just until the dough comes together. Transfer the dough to the pan and press into sides and across the bottom. Bake tart for 20 minutes, or until the crust is a light golden brown. Let cool while making the filling.
4. Process the remaining cup of sugar with the remaining 1 tablespoon of zest and process until zest is finely ground.
5. Whisk together eggs, zest mixture, lemon juice and pinch of salt in a medium bowl until smooth.
6. Beat the cream with an electric mixer until it forms soft peaks. Whisk the cream into the egg mixture just until blended.
7. Place a baking sheet in the oven, place the crust on the sheet and pour the filling into the still warm crust. Bake 25-30 minutes or until filling is just set in the center.
8. Cool completely and dust with confectioners' sugar.
James Moore has been a cooking enthusiast since childhood and started blogging as a way to share favorite recipes with friends and family. His site, Cook Like James has grown to include restaurants, cookbooks, wines, and favorite places.